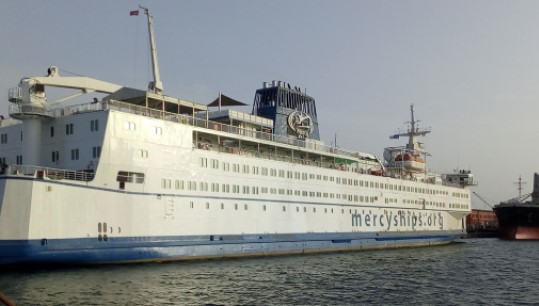 Mercy Ships has revealed details of its new charity hospital ship, which will be the largest in the world when construction is completed.
The 174-metre Global Mercy is due to set sail in late 2021. It will be the second vessel in operation with the faith-based charity, which currently delivers free healthcare and development services via the hospital ship Africa Mercy.
'The Global Mercy will be a true modern marvel – a fully custom-built hospital ship with customised instruments, state-of-the-art technology and highly-trained talent of a modern hospital,' Mercy Ships president Rosa Whitaker said. 'It also represents a unique call-to-action for anyone called to serve, and it presents the opportunity for people to use their skillset to positively impact global healthcare.'
The ship will provide a clean environment for surgery, access to volunteer physicians, and state-of-the-art training facilities. It will accommodate 950 crew when docked in port.
The current focus of the organisation's work is sub-Saharan Africa, where millions of people die every year because they lack access to surgical care and patients are more than twice as likely to die after an operation, largely due to a shortage of skilled medical personnel. Mercy Ships delivers hundreds of volunteers, including surgeons, dentists, nurses and healthcare trainers, to the region each year.
---
Tags