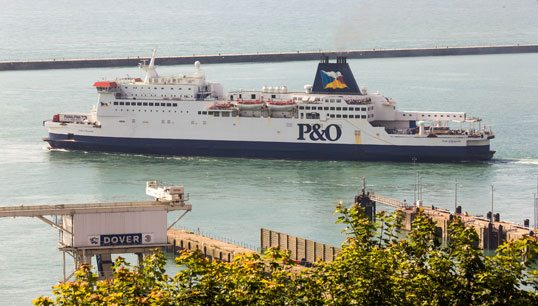 P&O Ferries has once again failed to address Nautilus International's safety concerns over the reintroduction of the ferry Pride of Burgundy on the Dover-Calais route.
The company is intent on having officers working longer than the established seven days on/seven days off roster on the Dover-Calais route. P&O Ferries is also planning on utilising fewer officers when initially operating Pride of Burgundy, as well as being reliant upon agency labour for meeting minimum manning requirements.
'It is disingenuous for the company to expect longer tours of duty with fewer officers, whilst claiming this does not impact safety,' Nautilus head of industrial Micky Smyth said.
The company continues to maintain its proposed crewing levels, the decision to employ agency staff, and fewer officers, is safe. It has proposed an officer model originally used on a previous cross-channel P&O ferry European Seaway (and not agreed by the Union) for the initial operation of Pride of Burgundy on two or fewer round trips per day.
Nautilus had been further concerned that P&O would seek to increase Pride of Burgundy sailings to stave off competition from opportunistic low-cost competition emerging on the short sea market, without increasing the officer manning levels.
P&O Ferries however confirmed that in the event of more than two round trips per day, the company will revert to its regular crewing levels. The company, however, fell short of confirming it would operate the vessel in keeping with other established safe arrangements.
With the company continuing to remark that they do 'not accept that our crewing model or roster pattern represents an increase in operational risk', despite the lengthier tours of duty contradicting P&O's own 2012 Cardiff University study, Mr Smyth said: 'It is a pity that the company remain intransigent and have only recently provided this basic information.
'We remind P&O Ferries that it continues to seek to circumvent our collective bargaining agreement and caution it against ignoring the established evidence regarding the safety of a working pattern longer than the established seven days on/seven days off on the Dover-Calais route.
'We continue to press for a resolution that maintains the terms and conditions of our members and long-established safe operating procedures in the short sea. However, with the support of our members, it is possible that the Union may be entering into a trade dispute – I have informed the company that we will be in contact about this in due course.'
---
Tags