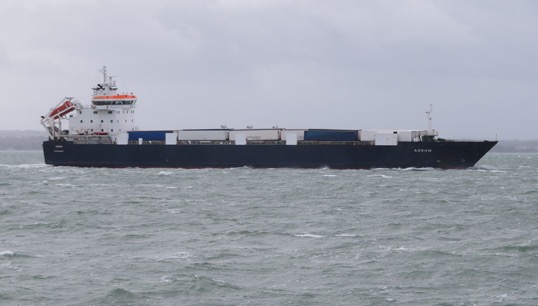 The Marine Accident Investigation Branch (MAIB) has published its investigation report into the grounding of the Isle of Man-registered ro-ro freight ferry Arrow while entering Aberdeen Harbour in restricted visibility on 25 June 2020.
On 25 June 2020 the vessel encountered a thick fog a few minutes before it entered Aberdeen's navigation channel, and with limited support from the bridge team, the pilot exemption certificate (PEC) holder became overloaded.
Therefore, while attempting to correct a deviation to the north of the planned track, he over corrected to the south. The over-correction was not noticed by the bridge team in time to avoid the grounding. After the grounding, the vessel began to list significantly in the falling tide. Once there was confirmation of no water ingress into the hull, the master used Arrow's engines and bow thruster to refloat the vessel.
There were no injuries or pollution, but there was significant damage to the hull. The MAIB notes that the bridge team was not fully prepared for pilotage in restricted visibility, the level of support provided to the PEC holder by the bridge team was poor, and poor bridge ergonomics and limited electronic chart system capabilities meant that the PEC holder was navigating by the use of radar alone.
No recommendations have been made by the MAIB following this investigation.
---
Tags