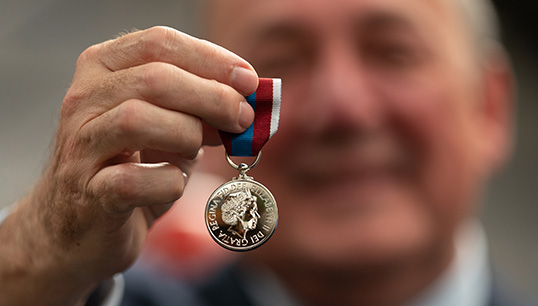 Nautilus general secretary Mark Dickinson has joined other leading figures in UK maritime in calling for seafarers to be recognised by the Queen's Platinum Jubilee Medal.
In a letter circulated to newspapers throughout the country, the signatories point out that merchant seafarers were overlooked in the 2012 Golden Jubilee Medal despite support for their inclusion by many MPs. 'There should be a change of course this year,' they stress.
Merchant seafarers are key workers who kept the supply lines open during the pandemic and deserve recognition for this, argues the letter. They have also sacrificed their lives for their country in wartime.
These points are clearly striking a chord with the UK's local and regional newspapers, who have been publishing the letter in droves, from the Dorset Echo to the Bradford Telegraph & Argus.
The letter can also be used as a platform for members of the maritime community to write to MPs, and campaign coordinator Lester May has the following message for Nautilus members:
'Do consider writing to your MP, pointing to the letter while adding, perhaps, a view of your own. I have written to my constituency MP Sir Keir Starmer, pointing to the letter in the Camden New Journal, and we are starting to see results to our campaign, as Admiral Lord West has raised two questions for us in Parliament.'
The text of the letter is as follows:
The Platinum Jubilee Medal will be awarded to many in HM Forces and the Royal Fleet Auxiliary and to 'frontline emergency workers' – commercial Merchant Navy seafarers not included.
MPs signed an Early Day Motion in 2002 deploring that most merchant sailors were not eligible for the Golden Jubilee Medal. There should be a change of course this year.
As a result of the pandemic, sea-blind Britons probably understand better the importance of merchant ships and seafarers. The world's just-in-time supply lines were significantly interrupted by the container ship Ever Given when she blocked the Suez Canal. Of the world's 1.6 million merchant seafarers, some 300,000 were stuck at sea, pandemic travel restrictions preventing routine crew changes. Many containers are, even now, in the wrong place and it's going to take some time to resume normal commercial activity on the high seas (some twenty million containers on the move around the globe at any one time).
Some 95 per cent of UK trade by volume (75 per cent by value) comes and goes by sea and much of our islands' imported energy arrives by ship. The seven seas are unforgiving, danger ever-present, and sailors lose their lives every month. Merchant seafarers, often unsung heroes in our nation's story, are key workers on the front line at sea, but out of sight to most.
Our Merchant Navy has supported our nation is past crises too. More than 30,000 merchant seamen lost their lives in the Second World War (a death rate higher proportionately than that of the Armed Forces), their ships bringing supplies essential to victory. The outstanding support of merchant seafarers in the Falklands War – lives lost then, too – will be saluted at the 40th anniversary this year.
The nation should salute Merchant Seafarers with a Platinum Jubilee Medal in 2022.
Mark Dickinson (General Secretary, Nautilus International)
Commodore Martin Atherton (Secretary, Trinity House)
Lieutenant Commander Les Chapman (Master, Honourable Company of Master Mariners)
Rear Admiral John Lang
Commodore Russell Best
Captain Mike Barritt
Captain Gordon Wilson
Colonel Philip Barry
Commander Nigel Chilcott
Commander Mike Evans
Commander Dai Somerville Jones
Commander Alastair Wilson
Lieutenant Colonel Ian Berchem
Lieutenant Commander John Basterfield
Lieutenant Commander Lester May
Lieutenant Commander Christopher Samuel (DefenceSynergia)
---
Tags