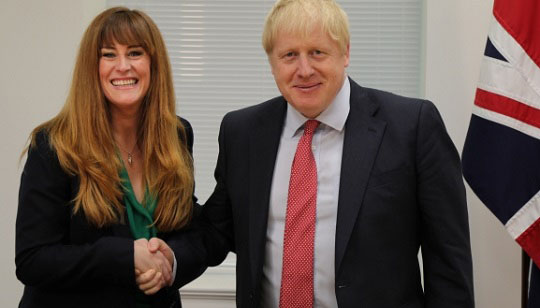 The British Shipping Minister Kelly Tolhurst has written to three UN agencies pledging its commitment to the welfare of seafarers of all nationalities during the coronavirus pandemic.
Ms Tolhurst called on the International Maritime Organization (IMO), the International Labour Organization (ILO) and the World Health Organization (WHO) to provide clear joint international guidance and direction to Port States, Flag States and Coastal States supporting seafarers and ship operators.
'Seafarers are the lifeblood of the world's economy. As a coastal, port and flag state the UK recognises the critical position that seafarers hold in both the UK and the global economy,' Ms Tolhurst said.
'More than ever, we need to ensure that freight is able to flow inwards and outwards of the country, and that global trade continues for the benefit of all citizens and the global economy.'
The UK is committed to keeping British ports open and will not restrict the transit or transfer of seafarers through the UK or restrict access to shore leave.
'We want to ensure that seafarers and those at the ports are protected and have in place robust measures to ensure the safety of all persons,' Ms Tolhurst said.
The government asked that other countries allow vessels to change crew to ensure the health and welfare of individuals and for the safety of the vessel.
'We ask states to show compassion when there are sick on board and to not turn away vessels, their crew or their passengers.'
Thousands of seafarers are now stuck onboard ships unable to disembark due to coronavirus restrictions with many ports refusing crew changeovers and flight bans in most countries.
Crew are at risk of fatigue and mental health issues and many are reporting increased stress levels to the Union. Communication with home is the number one welfare concern of seafarers, and the link with family has become even more important during the pandemic.
Nautilus has been told of unwell seafarers who are being denied basic medical care by port authorities struggling to deal with the spread of the Covid-19 virus and are being forced to rely on radio medical advice.
Nautilus members who are concerned or are experiencing difficulties related to the coronavirus outbreak are advised to contact their industrial organiser for assistance. In an emergency members can also contact the Nautilus 24/7 helpline.
More Nautilus assistance and our coronavirus resource hub can be found on our Assistance page.
---
Tags