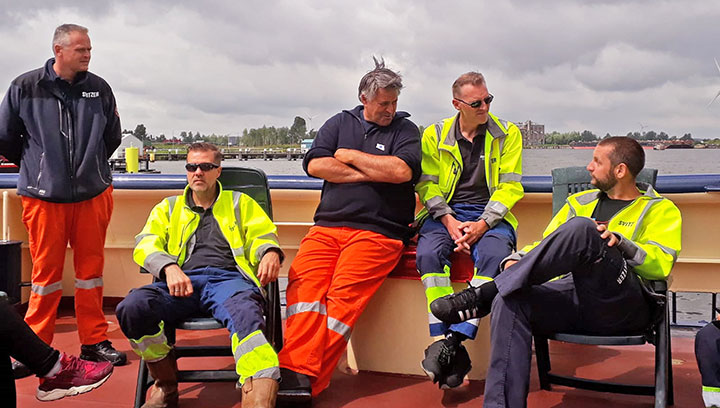 Nautilus members working for Dutch towing company Svitzer Euromed have staged their tenth strike in almost three months, as part of their ongoing dispute over unpaid working hours.

The employees downed tools on Monday 1 July, stopping tugboats from 01:00 to 07:00 hours and then again from 16:00 hours, disrupting shipping traffic in the North Sea Canal, IJmuiden and the Port of Rotterdam.

The tug crews are protesting because they work on average 49 hours a week, while getting paid 40.5 hours per week. They agreed to work the extra 8.5 hours for free in 2014 to help combat a business crisis at the Maersk-owned company.

But now Svitzer is doing well again, the crews want to be paid for all the hours they work.

Supported by Nautilus International and FNV Havens, the employees are at a deadlock with the company in the long-running conflict over their collective bargaining agreement (CBA).

The CBA agreement applies to 63 employees, who have been working for reduced wages since 2014. They now want a four-year CBA with a 4% salary increase, but Svitzer have offered 1.3% which included a bonus, but the offer to restore unpaid hours has 'fallen on deaf ears', and the company has let an ultimatum on working hours expire.

Asmae Hajjari from FNV Havens said: 'We have also proposed, a long-term collective agreement for five years instead of one. This way, Svitzer has the opportunity to spread the gap between wages and hours worked over several years. But the Svitzer management stubbornly refuses to think constructively about a solution to the collective agreement conflict. This while Svitzer presents itself as a social company.'

Jos Hilberding of Nautilus International said was it ridiculous that Svitzer consistently ignores its employees' grievances: 'There is no financial reason whatsoever to be so stingy in this tug-of-war, except to get protect the shareholder's money.'

Last month, Svitzer employees went on strike for the ninth time, taking residents of a retirement home on a river cruise instead. They said that as they consider the 8.5 unpaid hours to be voluntary work, they decided to spend that time doing voluntary work during their industrial action.
---
Tags