History
Steamship Shieldhall to receive second round of funding from the government's Culture Recovery Fund
8 April 2021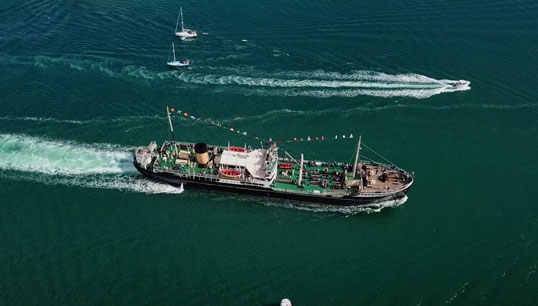 The Steamship Shieldhall Charity operating in Southampton has received a grant of £61,200 from the Government's £1.57 billion Culture Recovery Fund to help the organisation in its road to recovery.
Former cargo-passenger steamship SS Shieldhall is one of the 200 vessels forming the National Historic Fleet. The Shieldhall was unable to sail at all during 2020 due to coronavirus restrictions, which led to the cancellation of its 65th birthday celebration and 200 years of steamships operating out of Southampton.
Last month the SS Shieldhall was awarded the title of 'Small Tourist Attraction of the Year' at Tourism South East's Beautiful South Awards for Excellence. The government funding is further good news for the Shieldhall to assist reopening and recovery.
The funding will be used to help promote the ship's June-September sailing programme, set to cover over 20 sailings. The programme will be run by volunteers operating in covid-compliant conditions to ensure the safety of staff and all passengers.
Captain John Rose, chairman of the Shieldhall Charity, said: 'The announcement of a grant for Shieldhall is a further marvellous boost for our volunteers. With the government road map now set out, we are welcoming volunteers back to the ship and are preparing her to enter dry dock in Falmouth next month.'
'We can't wait to get back out on the water and once more witness the departure of Southampton cruise ships, including P&O's Iona later in the year, and provide a great viewing platform for events such as the Round the Island and Fastnet Races. While we may have lost the 2020 sailing season, Shieldhall remains in great shape and will be celebrating her 66th birthday in style in July!'
Further information on the Shieldhall sailing programme is available here.
---
Tags