Equality
Sip and puff helmet for disabled skipper's Atlantic crossing arrives at National Maritime Museum
6 December 2021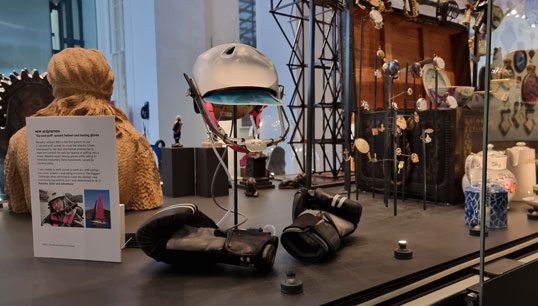 A specially adapted helmet designed for disabled sailors has gone on display for six months at the UK's National Maritime Museum to raise awareness of the importance of accessibility in the marine environment.
Born with quadriplegic cerebral palsy, a condition that affects her limbs and speech, Natasha Lambert sails using specially adapted 'sip and puff' technology.
In 2020, she became the first person to sail across the Atlantic using just sip and puff technology on the helmet to control her boat – spending 18 days, 21 hours and 39 minutes at sea, covering 2,808 miles.
The helmet was designed by Natasha's father Gary Lambert. It uses open-source software and incorporates a sip-puff system that uses a single straw that allows Natasha to control the helm and the sails.
Aside from Natasha's extensive sailing achievements, Natasha and her parents Gary and Amanda Lambert have set up a charity called Miss Isle to encourage and support sailing amongst the disabled community. The family's vision is to provide affordable sailing tuition to young people with physical disabilities who would benefit from using the sip and puff method of sailing. The Miss Isle School of Sip and Puff Sailing has been born out of the constant drive and desire to open sailing up to more people who wouldn't otherwise have access to it.
Natasha Lambert said 'I am delighted and very proud that my helmet is on display at the National Maritime Museum and really hope my story and the technology my dad developed encourages and inspires others. People are often surprised at what I have achieved and having the helmet at the museum will allow people to see how technology is developing to make accessing the marine environment achievable for all.'
Laura Boon, curator at the National Maritime Museum added: 'Natasha Lambert has achieved incredible feats that most of us can but dream of; most recently becoming the first person to skipper a boat across the Atlantic using the 'sip and puff' system aged just 23. At the National Maritime Museum we are thrilled at welcoming the sip and puff helmet into our collection and to be able to share Natasha's story with our visitors'.
The helmet went on display during UK Disability month (18 November to 18 December) and will be on display in the Sea Things Gallery for six months before being taken back under the care of the Museum's conservation team.
---
Tags