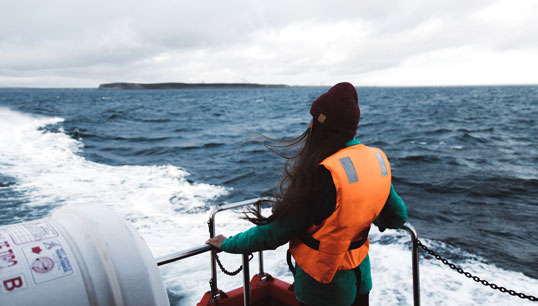 Nautilus members affected by sexual violence or gender discrimination while at sea have been reminded that they have access to the union's help, in a zero tolerance message marking the United Nations International Day for the Elimination of Violence Against Women.
Strategic organiser Rachel Lynch told a recent meeting of the Equality and Diversity Forum that the Union had worked with various organisations over the last six months and will be undertaking specialist training for some industrial staff to improve understanding of the impact of sexual violence, including assault and harassment, and how to handle disclosure.
'Nautilus has a zero tolerance attitude towards abuse and we are working to address the stigma and fear around reporting incidents within the industry,' said Ms Lynch.' 'This is part of the essence of what we do as a union, protecting members and promoting respect for maritime professionals.'
Guidance for members on recognising and tackling bullying and harassment in the workplace is also available in the Union's resource pack Protect and Respect Workplace Guidance, and plans are in hand for further, updated guidance.
Members can call the emergency helpline Nautilus 24/7, the service that helps Nautilus members in emergencies round the clock wherever they are.
The Trades Union Congress (TUC) has been leading a UK review of trade union strategies and policies dealing with sexual harassment. Nautilus general secretary Mark Dickinson took part in a TUC working group to look at ways to tackle the issue of sexual harassment and devise a framework to support trade unions on this. In July 2021, the TUC welcomed the UK Government Equalities Office proposals to stamp out sexual harassment at work by introducing a new duty on employers to ensure staff were protected from such harassment.
The premise of the UN International Day for the Elimination of Violence against Women is to raise awareness of the fact that women around the world are subject to rape, domestic violence, and other forms of violence; and to highlight that the scale and true nature of the issue is often hidden. The day initiates 16 days of activism concluding on International Human Rights Day, 10 December.
Ahead of the day new UN Women data was also released in a report Measuring the shadow pandemic: Violence against women during COVID-19 confirming violence against women has worsened due to the COVID-19 pandemic.
---
Tags