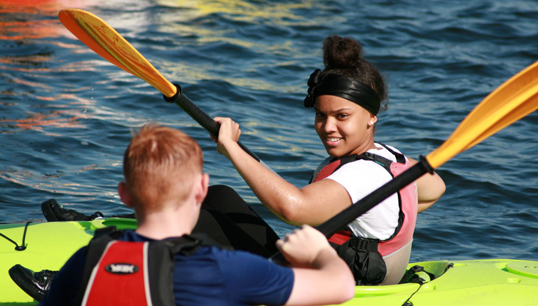 Sea Cadets has resumed and extended its special water-based programme for some 1,200 children in the UK from disadvantaged backgrounds who can now experience water-based adventures, learn valuable life skills and earn qualifications.

The charity's On The Water programme will run until 29 August, and gives young people aged 9 to 14 the opportunity to try out sailing, paddle sports and other activities, free of charge. Qualified instructors deliver sessions on a wide range of water sports.

This year, the programme is bigger than ever before and is being held across three locations: Royal Docks (London), Crosby (Merseyside) and the Edgbaston Reservoir (Birmingham).

On the Water coordinator Hugo Dell said: 'Children from disadvantaged backgrounds tend to have limited access to leisure activities while Covid-19 and the prolonged lockdown has brought new challenges for them.
'We hope this project will boost young people's spirits and give them a chance to exercise, have fun and provide them with long-term benefits too.'

While the programme was first held in 2019 in London, Sea Cadets was unable to run the programme last summer due to the pandemic. By extending the programme to include Merseyside and the West Midlands, the youth charity aims to broaden horizons for many more children in hard to reach communities.

'Last week I came to the Royal docks to try out the boats,' said a young participant who had taken part in the 2019 programme. 'They were amazing! Eric was a fabulous teacher, I'd never done water sports before. Thank you Sea Cadets.'


---
Tags