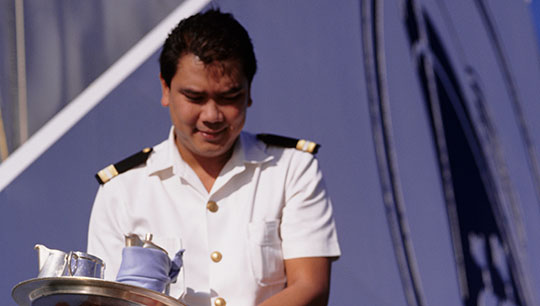 Scotland has withdrawn quarantine exemptions for cruise crew, stating seafarers must comply with its Coronavirus international travel and managed isolation guidance.
From 04:00 hrs Tuesday 25 May cruise crew will have to follow Scotland's 'traffic light' system for quarantine and testing.
When returning home from amber or red list countries seafarers working in the cruise industry will have to either self-isolate or enter hotel quarantine.
The Scottish rules are stricter and more complex than those in England, Wales and Northern Ireland.
Before travelling to Scotland from a red list country, seafarers need to:
On arrival in Scotland, seafarers must quarantine in a hotel for 10 days. If seafarers test positive for Covid-19 while in quarantine, they may need to quarantine for longer.
Before travelling to Scotland from an amber list country, cruise crew need to:
On arrival in Scotland cruise crew must:
take a Covid-19 test - on or before day two and on or after day eight of a 10 day isolation
Restrictions for travel to certain parts of the Common Travel Area (CTA) between Scotland, the Channel Islands, the Isle of Man and Republic of Ireland also come into force at 04:00 hrs May on 25.
Stay up to date with advice and information via the Nautilus Coronavirus resources hub.
---
Tags