Industrial
Safety concerns raised by crew on Solent Towage vessels over workplace exposure at Fawley
10 November 2020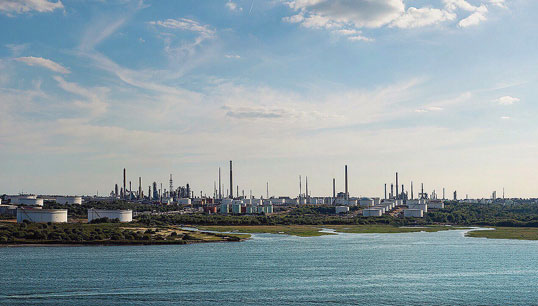 Nautilus has ramped up health and safety investigations on behalf of 40 seafarers who work and sleep on tugboats moored close to an Esso gas vent pipe at the Fawley refinery in Southampton.
The crew will get personal health monitoring to determine airborne pollution exposure levels after they raised concerns about the potential toxic effects of gas odours on their short- and long-term health.
They have previously complained of experiencing physical symptom such as nausea, migraines, dizziness, breathing difficulties and choking, in addition to experiencing confusion, dry skin and sore throats. Safety fears and anxiety are heightened when the wind directs gas fumes towards their Solent Towage vessels – the Dolphine No. 4b tug and a tug mooring barge – during regular planned and unplanned venting.
Solent Towage is the UK subsidiary of Ostensjo Rederi AS, a Norwegian shipowner which specialises in offshore vessels and ship towage and provides waterborne services. Edda Crewing members who work on the vessels have also been advised.
The matter was recently brought to the attention of the Maritime & Coastguard Agency (MCA) by crew during a routine vessel inspection, but concerns about airborne toxicity and its effects on health have been ongoing for seafarers in three vessels moored near the location for 14 years.
It was first raised with Nautilus by the seafarers towards the end of 2018. While there is no recognition for the Union at the company, Nautilus national organiser Steve Doran has been progressing the issue with the Health and Safety Executive (HSE) on behalf of some 15 individual union members from both Solent Towage and Edda Crewing. The HSE has now recognised – based on previous investigations – that the threshold odour of the released fuel may have been reached aboard the vessels.
MCA so far advises that as the equipment is onshore and not onboard it would not be for them to follow up, but if it became a Maritime Labour Convention workplace exposure issue, the MCA would be advised. Esso, the refinery owners, have commissioned an investigation into the flammable risk and Solent Towage sought an opinion on one element of the gas that makes up the cloud when the vent is open, but the reports have not provided answers for the seafarers' concerns .
A more recent investigation from an independent specialist toxicologist commissioned in July 20 by the Union and Solent Towage has also failed to suitably clarify or satisfy concerns, which is why Nautilus has now sought the HSE intervention for personnel monitoring.
In June 2020, residents in Southampton also reported concerns after seeing flames and smoke from the refinery, but the refinery company said it wasn't dangerous to health although residents smelt it.
Mr Doran, who recently submitted a 'concerns form' to the HSE said: 'I sincerely hope that the HSE is able to investigate the matter, and either confirm that no danger to the health of safety of seafarers exists or instigate appropriate steps to resolve matters.'
---
Tags