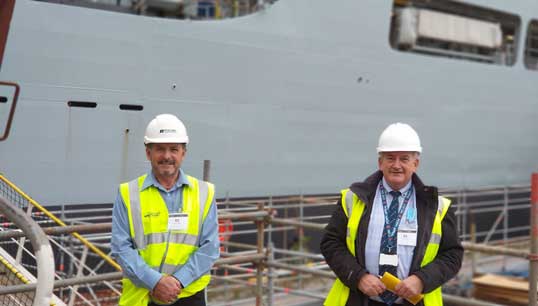 Royal Fleet Auxiliary (RFA) chief officer (logistics) and Nautilus liaison officer Dave Gatenby is set to retire after nearly 40 years of service at the RFA.
His retirement will end his term as a liaison officer for Nautilus, and the Union will be seeking a new volunteer.
Mr Gatenby has served two terms as Nautilus liaison officer from 2013 and again from 2019.
Nautilus International has had a partnership agreement with the RFA for almost 20 years, and until 2013 this included a full-time liaison officer working within PERSOPS at HMS Excellent in Portsmouth. That was then changed to a 50% funded position, with the remaining 50% of time spent undertaking duties as directed by the Head of PERSOPS.
The role involves dealing with members' issues, grievances and disciplinary hearings, alongside ill health and retirement, said Mr Gatenby. 'I also am involved with pay submissions, policy rewrites, health and safety, ethics and occupational health meetings in HQ to name but a few.'
Mr Gatenby is working to mitigate the risks of Covid-19 to members and is also awaiting the formal pay offer from the Commodore RFA.
'Job satisfaction is paramount especially when members are not fully fit, and you are assisting with return to work plans and severance packages. Retaining jobs also is a priority where people have made an error of judgement and need support or more guidance to move forward.'
Mr Gatenby is also part of the consultation process for members' Career Frameworks reviewed annually to ensure fair pay for all.
The liaison officer role is one of several voluntary lay representative roles the Union can accredit for members who want to ensure fairness in their workplace and to represent their colleagues. The RFA role is a three-year post and offers a development opportunity for any officer wishing to enhance their knowledge base. RFA members interested should contact their industrial officer or Mr Gatenby.
---
Tags