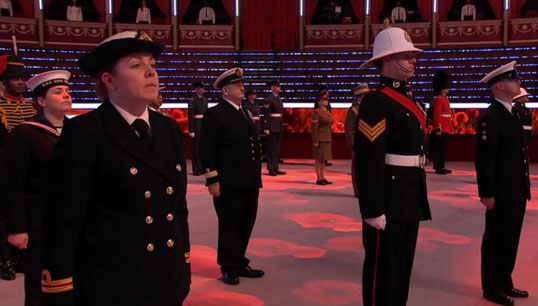 Men and women of the Royal Fleet Auxiliary joined in nationwide commemoration for fallen heroes of the first and second world wars on Remembrance Sunday.
Nautilus RFA liaison officer Dave Gatenby and communications rating Molly Oakley were selected to represent the RFA at the Royal British Legion annual Festival of Remembrance at the Royal Albert Hall.
Due to Covid-19 restrictions, the number of participants taking part in the ceremonies was reduced to two RFA plus eight Royal Navy, and Royal Marines and reserves, to represent the Royal Naval Services.
RFA members pre-recorded the programme following marching training at Wellington Barracks. This was screened on BBC TV on Saturday 7 November at 21:10hrs, where Mr Gatenby and his colleagues features about an hour into the recording.
Mr Gatenby, who is retiring in five months as chief officer (logistics)from the RFA after 40 years of service, said he and Ms Oakley were two of the much reduced 10-person Naval contingent for 2020:'We were very pleased to have had the chance to take part for the first time, and it was a very moving experience.
'It was unusual to have no audience, but the BBC organised the event very well and we very much felt part of the atmosphere on the night.'
Mr Gatenby's retirement will bring to an end his term as a liaison officer for the Union. In 2013, Mr Gatenby was voted into the full-time position of Nautilus liaison officer at the RFA and remained in post for four and a half years, before beginning a second term in April 2019.
---
Tags