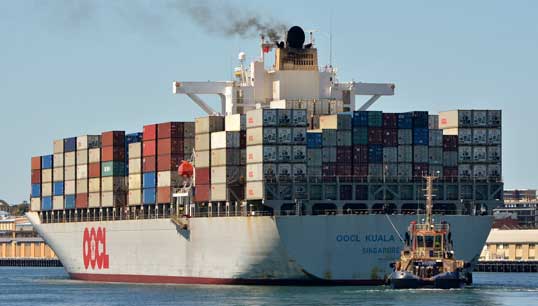 Australian authorities have expressed concern about the number of accidents involving ship elevator systems following an investigation into a fatal incident onboard a containership off the country's coast.
The electrotechnical officer (ETO) onboard the Singapore-flagged OOCL Kuala Lumpur died after becoming trapped between a bulkhead and the top of the ship's personnel lift cage while he was testing the system after repairs as the 68,904gt vessel was preparing to enter Port Botany, New South Wales, in June 2018.
The Australian Transport Safety Board investigation was unable to determine the exact circumstances of the accident. However, the report adds, for the accident to have occurred, the ETO must have moved from the safe zone, the elevator control had to have been changed from manual to auto, and the elevator called.
The investigation found that key safety barriers prescribed in the electrical work permit were not put in place before the work began. There had been no warning announcement and there were no warning signs posted at elevator access doors – meaning that an elevator call could be made while the work was underway.
Aspects of the supervision and communications throughout the task were ineffective, which meant that opportunities to stop or alter the method of work were missed, the ATSB said.
Investigators suggested the ETO may have been under pressure to complete the repairs before the ship took on a harbour pilot and arrived in port later that day. While placing and removing notices on all decks and doors may have taken longer than the task itself, the report points out that 'this accident illustrates the importance of following documented procedures and safe working practices'.
The ATSB said that ship elevator accidents account for around one fatality every year. 'Many of these accidents involved the failure to apply existing safety management procedures and/or identified safety barriers that have proven effective in reducing the risks associated with elevator maintenance,' the report notes.
'These include procedures related to communications, supervision and machinery isolation/lockout.'
In many of elevator accidents, the injured person was working alone and riding the lift cage, the report stresses, and in such circumstances it should be all the more important that safe working practices and procedures are followed, and that close and careful supervision is maintained.
The report notes that the ship's managers implemented an 'extensive programme of education, training and review of elevator-related processes and procedures' across the fleet in response to the accident.
---
Tags