Nautilus news
Union calls time on governments using 'force majeure' to mask failures in pandemic response
5 June 2020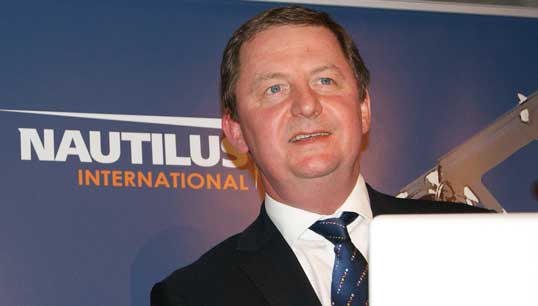 National governments can no longer hide behind a declaration of 'force majeure' in order to mask failures in their pandemic response which have resulted in thousands of seafarers being stuck at sea well beyond their contractual obligations.
Seafarers have borne the brunt of poor decisions made by national governments, which were 'shockingly underprepared' for the challenges a global pandemic brings, Nautilus general secretary Mark Dickinson said.
The international shipping industry has warned of a threat to global trade and vessel safety with up to 400,000 crew stranded either at sea or on shore by travel restrictions brought on by Covid-19.
'The reaction [to Covid-19] from governments worldwide saw measures introduced to prevent the disease spreading that failed to appreciate the crucial role that the shipping industry and our seafarers play in the global economy,' Mr Dickinson said.
'Countries [closed] their borders, airlines were grounded, embassies closed their consular services, ports limited their services and port and flag state control officials were unable to validate or check ships' certificates or the working and living conditions of seafarers.'
Praising the world's seafarers for being among the heroes of the pandemic, he said that even in the darkest days, crews had continued to carry essential goods and keep the global supply chains open. 'In return, they have been ostracised and treated as if they are carriers of this disease.'
With national governments found wanting, unions and shipowner representatives had worked together to create detailed protocols on protection, safe travel, air and port corridors, financial resources, accommodation and the secure identity of seafarers. Protocols which, having been endorsed by the International Maritime Organization (IMO) and the International Labour Organization (ILO), make the 'force majeure' arguments for contract extensions redundant.
Mr Dickinson called on flag states to return to the proper implementation of the Maritime Labour Convention (MLC) and allow crew changes and repatriation to take place before a marine disaster occurs because of overstretched and exhausted crews.
'Seafarers' mental wellbeing is being stretched to breaking point, as several recent tragic events have grimly illustrated; [they] are unable to perform their duties with the necessary diligence. They have not been allowed to return home for up to 15 months in some cases.'
Governments and representatives of seafarers and shipowners must continue to work in cooperation and partnership to make things better for seafarers and fishers and ensure a brighter future.
Mr Dickinson was speaking at a 5 June top-level industry webinar titled Covid-19 and Maritime Labour Issues: Impact and Responses. It was co-organised by the ILO and the International Training Centre of the ILO, in collaboration with the IMO and the World Health Organization (WHO).
Many of the other webinar speakers were also passionate in their support for seafarers, and stressed the need for global governments to designate seafarers as key workers and ensure that the crew change crisis is urgently resolved.
Corinne Vargha, director of International Labour Standards Department at the ILO, called on governments to urgently adopt all possible measures to facilitate crew change and the repatriation of seafarers whilst taking steps to ensure and minimise the risk of contagion.
Her colleague Beatriz Vacotto, head of the maritime unit, said that the protection of seafarers' health and safety must be a top priority for governments.
'Any extension of the period [seafarers spend] onboard should be accompanied by appropriate safeguards to avoid any risk of abuse,' she said. 'This includes ensuring the consent of seafarers, no loss of annual leave rights and ensuring that shipowners are liable for the costs of sickness benefits for those who contract the virus and those who have to undergo a quarantine period.'
Sarah Cerche, speaking on behalf of the Shipowner Group at the ILO, praised the cooperation of unions and shipowners in protecting seafarers, and said that ship sanitation procedures and protocols for travel to and from vessels were just two lessons which had already been learnt as a result of the pandemic. She said that shipowners' ability to ensure repatriation of crew had been severely impacted by the significant reduction of commercial aviation, border restrictions and airport closures. She reiterated the call for all countries to recognise seafarers as key workers in the future to avoid a repeat of the crisis.
Summing up the event, Brandt Wagner of the ILO said he hoped the webinar had increased the understanding of pandemic-related issues that had been affecting seafarers, and that it would inspire governments to action, especially on the issues of the health and safety of seafarers and facilitating crew changes before the 15 June deadline.
---
Tags