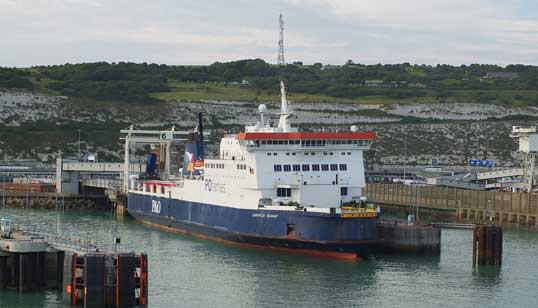 P&O Ferries' plan to make 1,100 staff redundant is short-sighted and could lead to the loss of skilled officer workforce across the company and the wider maritime sector.
The Dubai-owned ferry company plans to cut a significant portion of its workforce, outlining proposals impacting maritime professionals, predominantly ratings, with substantial, unsustainable reductions in the numbers of officers apparently required.
Nautilus International head of industrial Micky Smyth said: 'The initial draconian proposals have been surpassed by the reckless "restructure" outlined by the company's HR1 submission. We refute entirely the proposals provided thus far, and will seek to negotiate, on behalf of our maritime professionals, a proper pathway past the pandemic that ensures the future of the company and the jobs of our members.'
P&O has furloughed 1,400 staff since the pandemic broke out.
Chief executive Janette Bell said P&O would seek voluntary redundancies before moving on to a selection process.
Consultation will run for a proposed period of 45 days from Monday 11 May 2020, ending on Wednesday 24 June 2020.
Five P&O ships have been laid up: the Pride of Canterbury, Pride of Burgundy and European Seaway on the Dover to Calais route, and the Pride of York and Pride of Bruges on the Hull to Zeebrugge route.
In mid-April Nautilus criticised moves by P&O Ferries to drive down members' terms and conditions during the Covid-19 pandemic.
The company wanted to renegotiate rates of pay, revise recall payments, reduce occupational sick pay, revise the redundancy formula to reduce to statutory pay, introduce lay off clauses in its collective bargaining agreement (CBA), remove long service benefits and remove the profit share scheme. P&O Ferries also wanted to introduce a 'no strike clause', against all of which the Union have, thus far, vigorously and successfully defended.
In late April the European Transport Workers' Federation (ETF) wrote to P&O Ferries with grave concerns about the operator's treatment of employees. The communication was also sent to Sultan Ahmed Bin Sulayem, CEO of the company's owner DP World.
'We deplore P&O Ferries' decision to present a list of proposals for permanent changes to jobs and terms and conditions during the current, extreme period brought about by the Covid-19 pandemic,' ETF acting general secretary Livia Spera said.
P&O Ferries is seeking a £150m bailout from the UK Government as part of a £250m rescue package.
The group recently paid a dividend to shareholders of £270m.
More help and our coronavirus resource hub can be found on our Assistance page.
---
Tags