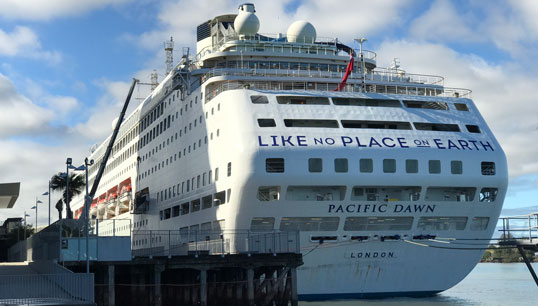 P&O Cruises Australia has reportedly sold its 70,000 tonne Pacific Dawn cruise ship to a company which plans to give the 14-deck vessel a new life as a floating community for nomad techies off the coast of Panama.
New owner Ocean Builders will use it as a 'floating, off-grid seapod home'. The vessel will be renamed Satoshi - the smallest unit of the cryptocurrency bitcoin.
Ocean Builders chief operating officer Chad Elwartowski said the company is scheduled to take delivery of the cruise ship on 4 November in the Mediterranean. Columbia Cruise Services will manage ship operations.
The company's website describes the Satoshi as a new 'global headquarters for digital nomads, YouTube influencers and start-ups'. It is reported the vessel will eventually house 2,000 people in 770 cabins.
The company also says the new vessel will meet cruise industry health and safety standards such as onboard Covid testing and offer preventative doses of hydroxychloroquine, the anti-malaria drug studies have shown to be ineffective against for treating Covid-19 infections.
---
Tags