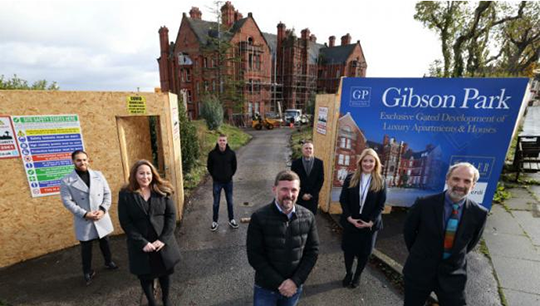 Nautilus Welfare Fund (NWF) has welcomed the start of work on Andrew Gibson House, which is being turned into a new purpose-built apartment development.
NWF sold the historic site to property developer Prospect Capital in November 2019. Gibson House was closed in 2002 because the costs of meeting present-day welfare standards proved prohibitive for the Fund.
NWF welfare service manager Mick Howarth said: 'There is huge affection for the building locally in recognition of its iconic and historical significance.
'We were delighted to work with Prospect Capital and Wirral Council on an imaginative and sensitive scheme that saves the building and provides much needed new accommodation and investment in the area.'
NWF Secretary Olu Tunde said: 'There have been a number of false dawns over the years, as this is a challenging building requiring an imaginative solution with enabling development.
'We are delighted that this deliverable and attractive scheme can now go ahead. Part of the wider use of the site will be a new, and much needed, 26 place apartment scheme which will meet the growing demand from those that the charity seeks to support.'
Work on the project stalled due to legal delays processing an application to reroute the footpath running across the development site. The initial application process was aborted due to the Covid 19 lockdown, with the new application finally approved earlier this month.
Prospect Capital's Craig Blackwell said: 'This is a massive relief and great news that we are now able to start work on the restoration of Andrew Gibson House and the wider redevelopment of the site.
'Everyone has worked really hard to save the building, so we want to get on with the project as quickly as possible and safeguard the future of a much-loved landmark.'
The first phase of work will see the restoration of Andrew Gibson House and four detached new homes on adjacent to the main building. Work on the new accommodation block for Nautilus will begin following completion of the restoration.
---
Tags