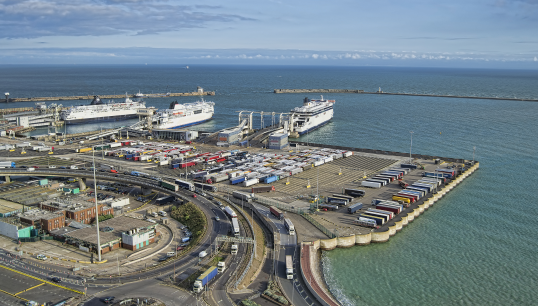 Nautilus International is to ballot members on possible industrial action following serious safety concerns around crewing levels and the company using agency staff working extended tours of duty on Dover-to-Calais P&O Ferries.
Following consultation with members, the Union is planning action commencing 26 August 2021, running across the Bank Holiday weekend and beyond.
The Cypriot-registered Pride of Burgundy, which transported passengers and freight across the Dover to Calais route, was mothballed and put up for sale by Dubai-owned P&O Ferries as a result of travel restrictions during the pandemic. The vessel has since been reintroduced with fewer officers working for longer and heavily reliant on agency labour rather than permanent crew.
The Union first raised concerns regarding P&O Ferries' plans for the Pride of Burgundy in April and has since had extensive discussions with representatives from the company to maintain the established safe conditions for those working and travelling on board the vessel. The established safe working pattern for maritime professionals on the route, who work a minimum of 12 hours a day, consists of seven days onboard followed by seven days of rest.
Nautilus has worked closely with the company for decades and has in place a Collective Bargaining Agreement (CBA) which guarantees certain conditions and safeguards working practices for those onboard. The CBA includes specific mention that the Pride of Burgundy is covered in the provisions of the agreement; however, despite repeated attempts at resolution, P&O Ferries has not conceded that its actions of reducing crewing numbers and lengthening tours of duty breach the agreement and could result in safety issues due to increased fatigue. It is of further concern that P&O is engaging the agency staff to avoid the application of the collective agreement to them, as it only applies to directly employed staff. This could undermine future industrial relations, and the concept of secure full-time employment with the company.
Nautilus International head of organising Garry Elliott said: 'Despite our best efforts, P&O Ferries has failed to address our serious safety concerns over the reintroduction of the Pride of Burgundy. The Dover Strait is the world's busiest shipping lane, with between 500 and 600 vessels crossing each day. To have vessels circumvent long-established safe operating procedures and operate with the minimum possible crewing levels is dangerous for all aboard, which is why our members are demanding a ballot for industrial action against P&O Ferries.'
During the pandemic P&O Ferries made more than 70 full time officers redundant. While the pandemic did hit the ferry industry significantly, P&O Ferries received more than 40% of the Brexit critical freight grant and requested £150million in Government bailouts. The company also registered more than 1,400 staff for the taxpayer-funded Covid-19 furlough scheme.
Mr Elliott continued: 'The P&O Ferries website professes "travel with peace of mind" and that's exactly what we want our maritime professionals and passengers to be able to do. There are too many examples of the tragic consequences of corner cutting when it comes to deviating from recommended safe practices, including cutting crewing levels, when companies put speed and profit over the safety of those onboard. As a Union, contemplating industrial action is not something we take lightly, and should members vote for this course it would be the first industrial action against P&O Ferries for decades, but when ultimately lives could be on the line, we need to take a stand.'
The Union issued a Letter of Intention to Ballot to P&O Ferries today and will begin balloting members on 27 July. Should members vote for industrial action this is likely to commence on 26 August 2021.
---
Tags