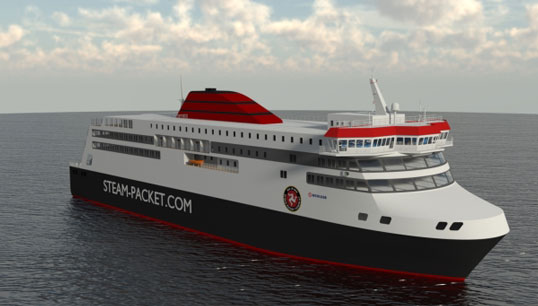 Nautilus members have overwhelmingly rejected proposed live aboard arrangements, and two weeks on/off rotations, aboard a new Isle of Man Steam Pack Company (IOMSPCo) vessel.
The company announced in July 2020 it had signed a contract for the construction of a new ferry with South Korea's Hyundai Mipo Dockyard, which will be a replacement for the existing conventional ferry, Ben-my-Chree.
The new 'Live Onboard' proposals means crew may be asked to work two weeks living onboard the vessel, then have two weeks leave.
National Organiser Steve Doran said that most Nautilus members working for IOMSPCo had taken part in a consultation on the proposals and 81% objected to the live onboard proposal, and 73% opposed the two weeks on/two weeks off proposal.
Together, the proposals were seen as reducing time at home with family resulting in a poorer life balance. There were also concerns that it would increase the number of non-Isle of Man resident seafarers thereby undermining the Sea Services Strategic Agreement with the IOM Government, added Mr Doran. 'Worries also exist that crewing levels will be lower, thus diminishing employment opportunities.'
IOMSPCo said that the proposals would allow the new ferry to sail outside of normal schedules, give flexibility to expand the business, and reduce company costs due to staff expenses from living ashore. The company suggested that crew members would be offered improved leisure equipment onboard and a designated relief.
However, many members who rejected the proposals highlighted that they had specifically chosen to work for the IOMSPCo so they could live at home and enjoy a better family work/life balance.
Other feedback noted that officers and crew are already flexible and willing to modify hours of work. Delays were often due to outside factors such as freight logistics, and hauliers who work to a fixed timetable.
Mr Doran said members' anonymised feedback would be forwarded to the company for their consideration: 'The Company have stated that they will gladly receive relevant feedback, which will form a key part of future discussions, and it is understood that the RMT will do likewise.'
---
Tags