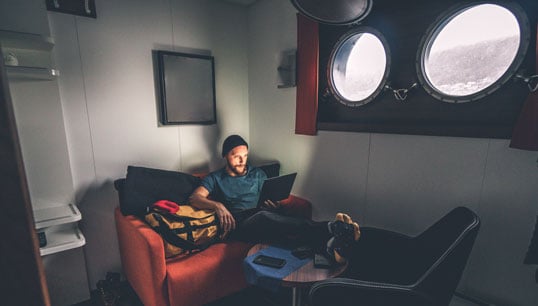 Nautilus has sought opinion from members about proposed living arrangements, and two weeks on/off rotation, aboard a IOMSPCo new vessel.
'This consultation was important to ensure that members' concerns are at the forefront of future negotiations,' Nautilus national organiser Steve Doran said.
'The new build represents an opportunity to enhance and increase employment and development opportunities at the IOMSPCo, and whereas last year's meetings involved initial "scoping" discussions, we will be seeking firmed-up details/formal proposals at future consultations, keeping members informed every step of the way,' Mr Doran said.
IOMSPCo suggested various reasons for living on board, including the ability to sail outside of normal schedules despite weather delays, flexibility in future scheduling to expand the business, and reduction of company costs and staff out-of-pocket expenses from living ashore. The company suggests that crew members will be offered improved leisure equipment on board and a designated relief.
IOMSPCo's reasons for the two weeks on/off rotation include better continuity for all on-board, allowing additional staggered change overs, improved crew time at home and better flexibility for the company to arrange training courses.
The Union will now seek more details concerning the new build, including clarification on crewing levels and roster patterns across the whole fleet.
---
Tags