Members at work
Nautilus member Susan Cloggie-Holden wins prestigious Seafarer of the Year Award
11 December 2019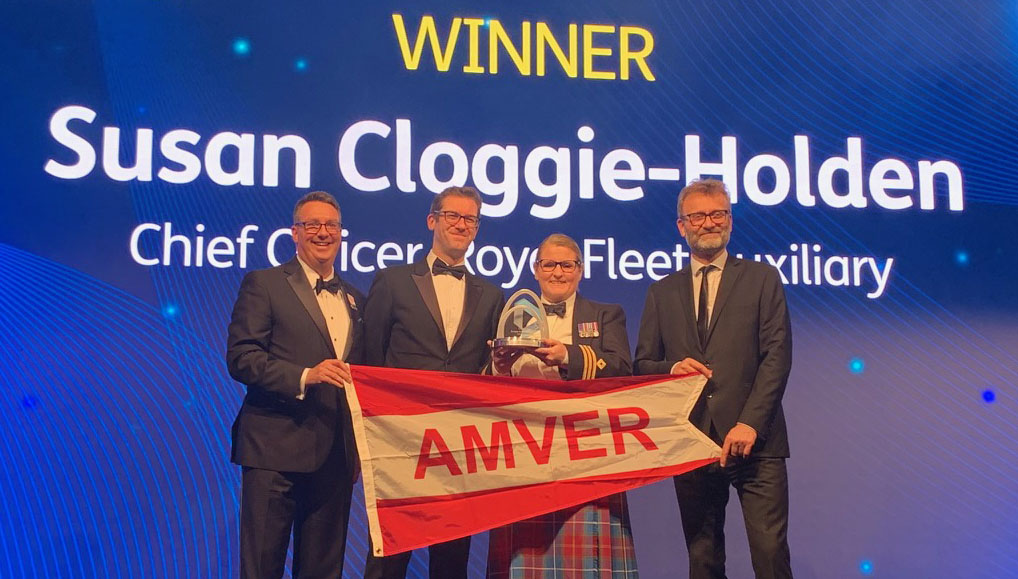 Nautilus member Susan Cloggie-Holden has been named 2019 Lloyd's List Seafarer of the Year for her work in championing female seafarers.
The prestigious award was presented to Royal Fleet Auxiliary (RFA) Chief Officer Cloggie-Holden at a black-tie event at London's Hilton Park Lane Hotel.
The judges, made up of a panel of leading maritime industry executives, were recognised Chief Officer Cloggie-Holden for her work in promoting female seafarers during the International Maritime Organization's (IMO) year of empowering women in the maritime community.
In a well-received acceptance speech Chief Officer Cloggie-Holden said she was 'proud to be able to help improve seafarer's lives at sea, and to improve gender diversity in our industry'.
Nautilus International general secretary Mark Dickinson congratulated Chief Officer Cloggie-Holden for her hard work, commitment to empowering women in maritime and promoting Union activities. 'Susan Cloggie-Holden is an inspiration to all serving seafarers, and cadets, for what a successful and exciting maritime career can look like,' he said.
Head of the RFA Service, Commodore Duncan Lamb said: 'Susan has been leading some important and significant work as the RFA seeks to engage with, understand and improve the environment for our women.
'She has taken this work well beyond the RFA and has been a key leader and champion of the UK maritime industry's efforts to recognise and encourage females. I am incredibly proud of her hard work, the way she has represented the RFA and now, the recognition she has received.'
Lloyd's List Managing Editor Richard Meade, who presented the award, said: 'Susan is a worthy exemplar of everything I want these "excellence in shipping" awards to be promoting.'
Chief Officer Cloggie Holden is the first Royal Fleet Auxiliary (RFA) Female Champion and was shortlisted as a finalist in the 2019 Maritime UK Diversity Award demonstrating pan-industry recognition for the work being undertaken in this area.
She is Chair of the RFA Women's Network and established a Confidential Point of Contact (POC) for RFA Women.
She launched a new Female to Female Mentoring scheme for RFA Women, issued policy on dealing with incidents from serious assault to rape and worked on pregnancy policy and literature.
Chief Officer Cloggie-Holden was a founding member of the Maritime UK Women in Maritime Taskforce, a member of the Charter sub-group and a Women in Maritime Charter Champion.
Under her guidance, the RFA achieved Women in Maritime Charter Company status.
Chief Officer Cloggie-Holden has taken part in speaking panels at numerous events such as the International Maritime Forum in Liverpool, the Women in Shipping Summit and the Shell Women in Maritime event.
She has featured in the Women in Maritime Charter launch video and the Department for Transport's (DfT) 'Maritime and Me' campaign.
---
Tags