International
Nautilus International and ITF call for urgent release of seized British oil tanker and crew
22 July 2019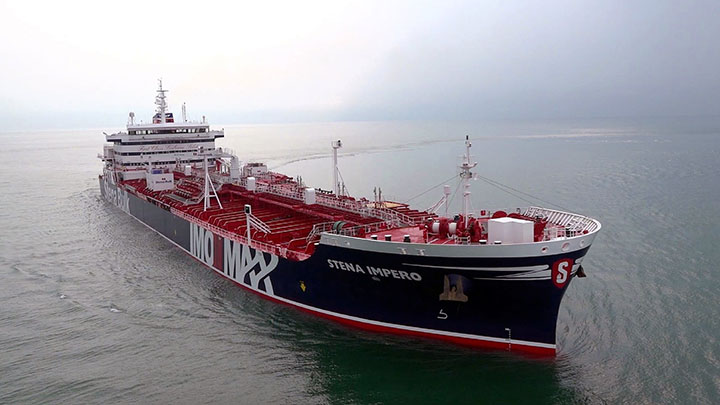 Nautilus International and the International Transport Workers' Federation (ITF) have raised serious concerns over the seizure of British oil tanker Stena Impero in the Strait of Hormuz and have called for a diplomatic resolution to the situation and de-escalation of tensions in the region.
Iran's Islamic Revolutionary Guard Corps seized the British-flagged oil tanker Stena Impero in the Strait of Hormuz on Friday, with 23 seafarers onboard of Indian, Russian, Latvian and Filipino nationality.
"We are shocked but not surprised by the developments in the Gulf. We have been raising our security concerns with the UK Chamber of Shipping repeatedly over recent weeks. I wrote to the Minister of Defence supporting and encouraging joint naval interventions in response to the heightening tensions in the Gulf. We call on the UK government to urgently engage in diplomatic efforts for the release of the vessel and crew," said Nautilus International general secretary Mark Dickinson.
"Our thoughts are with the seafarers being held, and to their families. We offer our support to the international effort to have them released safely, and promise to redouble our efforts, including collaboration with our international colleagues, to ensure that all seafarers are protected from aggression wherever the risk is evident," added Dickinson.
The Islamic Revolutionary Guard Corps said in a statement that the Stena Impero was seized "at the request of the Ports and Maritime Organization's office of Hormuzgan province for disregarding international maritime rules and regulations as it was passing through the Strait of Hormuz."
According to the semi-official Iranian news agency Fars, the vessel has reportedly been taken to Iran's Bandar Abbas Port, where all 23 crew members are being held on board until subsequent legal proceedings are concluded.
"The ITF is deeply concerned, the seizure of the Stena Impero marks a dramatic intensification in the turmoil in the region," said ITF Seafarers' Section chair David Heindel.
"This is the latest in a series of alarming episodes, and again we call for a de-escalation of the heightening tensions in the region. We call on all nations to promote stability, ensure safe passage, and freedom of navigation in international waters throughout the Arabian Gulf, Strait of Hormuz, the Bab el-Mandeb Strait and the Gulf of Oman.
"Seafarers are concerned about the risk to their safety, it's essential that the maritime industry and governments work collectively to guarantee safe passage and defuse conflict in such a vital region," said Heindel.
---
Tags