Nautilus news
UK Labour Party pledges to protect seafarers and grow coastal communities
10 October 2023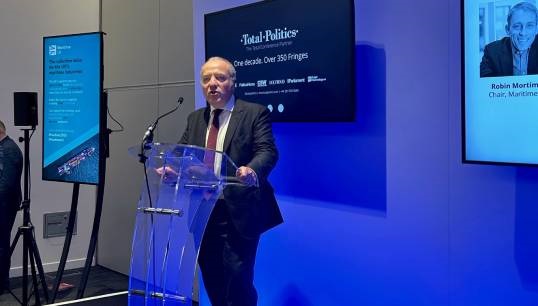 Shadow maritime minister Mike Kane has reaffirmed the Labour Party's commitments to protecting seafarers and investing in coastal communities.
Speaking on Sunday 8 October 2023 at a Maritime UK event linked to the Labour Party conference in Liverpool, he said: 'I give you my word, we will not leave seafarers behind.'
'We will work with unions and with industry, as we always have, to ensure that the opportunities in the sector are opportunities for long forgotten coastal communities and the deindustrialised communities.
'A Labour government will ensure effective safeguards that will protect working people on the path to net zero in respect to pay, quality and conditions.'
Mr Kane, who is the MP for Wythenshawe and Sale East, said that 'under a Labour government we hope never to see the P&O Ferries scandal ever again.
'I've worked with unions and with colleagues in the industry and with the shadow transport team to lobby the government in order to strengthen the Seafarers' Wages Bill. Treating workers with respect and dignity in the workplace will be core to my mission as minister and we will make sure that that happens.'
He further pledged to ensure that the energy transition, and the North Sea, will be managed in a way that does not jeopardise workers and communities.
'Labour is committed to securing a future of well paid, skilled jobs for all those impacted by the energy transition.
'The challenge is huge. The potential is enormous and the race is global.
'I have every confidence that the people in this room will play a major part in us winning this vital race. We'll do it together. We will walk together, we will work together. We will try to go further, go faster to make it happen.'
Nautilus co-sponsored an earlier Maritime on the Mersey event, which also saw the launch of the Union's New Deal for Maritime Professionals manifesto on Saturday 7 October. The manifesto includes 100% funding for SMarT training and reform to the tonnage tax system.
The Mersey event rounded off a busy two months of Union attendance at political conferences lobbying for awareness of merchant seafaring. In September, Nautilus attended the Liberal Democrat Conference in Bournemouth and met with the party's transport spokesperson Wera Hobhouse.
During the first week of October, the Union attended the Conservative Party conference in Manchester, which heard from the maritime minister Baroness Vere of Norbiton. The Union will also attend the SNP conference being held in Aberdeen from 15-17 October.
Nautilus is committed to engaging with public representatives from across the political spectrum in the interests of its members.
---
Tags