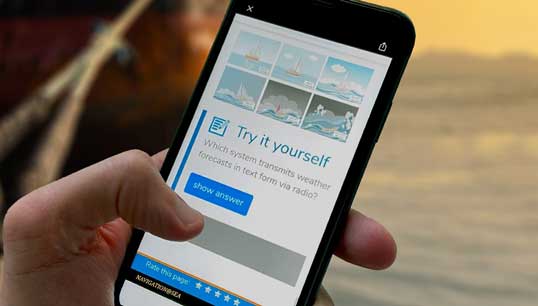 The Marine Society has added a new digital course – Navigation@Sea – to its suite of online Learn at Sea programmes for seafarers and those interested in a career at sea.
The course will provide an 'underpinning knowledge' of how to navigate a vessel, which it is hoped will provide a valuable basis for a career at sea in a variety of roles. It is pitched as an introduction to a professional skill or knowledge of navigation.
Available via a smartphone app download or browser, with content also viewable in the app offline, this course gives seafarers the chance to plan and chart their own online voyage from Plymouth to Dover, learning how to plot and calculate a course while creating a passage plan. It also shows the effect of tides and weather and helps the learner understand the function and uses of electronic navigational aids.
Written in accordance with the Maritime Skills Alliance's (MSA) building blocks known as Maritime Studies and Qualifications (MSQ) Unit 95 – Introduction to Navigation – the course will suit anyone who does not have prior knowledge in this area. Those interested in learning more about the course can contact the Marine Society at learning@ms-sc.org or visit fal.cn/navigation to purchase.
Most MSQ Units are based on National Occupational Standards (NOS). The MSA keeps the NOS under review, but where the NOS are based on the
Standards of Training, Certification and Watchkeeping for Seafarers (STCW) they will only change when STCW changes.
Director of maritime training and development at the Marine Society Darrell Bate said: 'This is a much-needed addition to our growing suite of maritime contextual upskilling courses that will help individuals build their navigational knowledge in preparation for more formal study.'
---
Tags