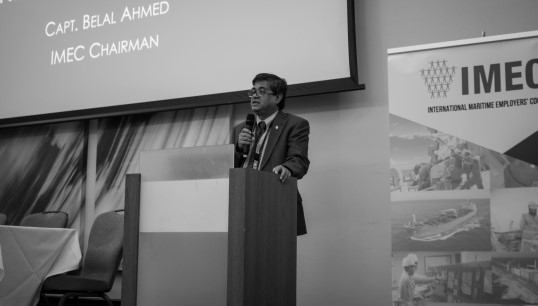 The Joint Negotiating Group (JNG) has called on the maritime industry to ensure that seafarers are given their rights during the Covid-19 crisis and are not blacklisted for speaking out against unfair treatment.
The JNG, which represents maritime employers, made the commitment in a joint statement issued with the International Transport Workers' Federation (ITF).
'It is important that seafarers are not disadvantaged for merely standing up for themselves when they have completed their contracts and are mentally and physically not ready to continue to work safely,' said International Maritime Employers' Council chairman Captain Belal Ahmed, who signed the letter on behalf of the JNG.
The JNG affirmed the commitment of its members to international maritime regulations and 'free, fair and safe workplaces'.
'We are uniting to call for ship owners, charterers, management companies, crewing agents, hiring partners and all other stakeholders to commit to not applying pressure on seafarers or coercing them in any way to extend their contracts. Neither should they deny seafarers the ability to exercise their human right to stop working, leave ships and return home,' the statement said.
ITF general secretary Stephen Cotton added: 'Seafarers have a real fear that if they speak up or stand up that their careers could be over. Fear of blacklisting prevents them from enforcing their own worker and human rights. Given the mental and physical fatigue caused by extended time on board, it is more important than ever during this crew change crisis that seafarers can speak up.
'We will be coming down hard on anyone in the industry who think they can get away with targeting seafarers who use their rights to reject contract extensions. Our industry is better than that.'
---
Tags