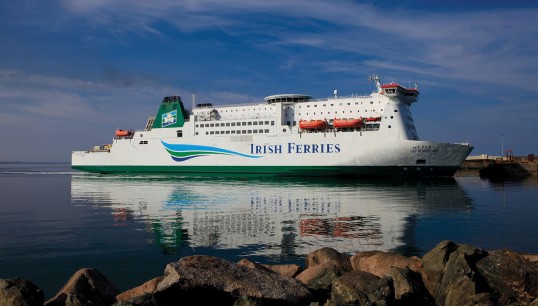 Irish Ferries has announced it is to deploy three vessels on the Dover-Calais (short sea) route next year.
The company is acquiring the ro-ro ferry Ciudad de Mahon from Trasmed, and plans to put the vessel into service in late January 2022. The vessel has a capacity of 589 passengers and a freight unit carrying capacity of 91 units.
'Nautilus will persist in its ongoing efforts to engage Irish Ferries in productive discussions about future social partnership on the short sea and across other Irish Ferries routes,' said Nautilus executive officer Martyn Gray.
'We will continue to have dialogue with all stakeholders to maintain and improve safety standards and to develop and defend quality employment opportunities on all vessels that frequently operate from UK ports.'
The operator only began work on the Dover-Calais route in June 2021 with the transfer of the Isle of Inishmore, which operates up to 10 sailings a day.
On 4 November Irish Ferries announced it would be doubling services with the introduction of ro-ro cruise ferry Isle of Innisfree, which is expected to begin operating in December.
In a statement, the company said: 'The introduction of these two [extra] vessels, representing a total investment of €35.5m, alongside the Isle of Inishmore completes our previously announced plan to introduce three vessels on the Dover - Calais route. This will allow Irish Ferries to offer up to 30 sailings per day on the route with sailings in each direction approximately every 90 minutes.'
---
Tags