United Kingdom
Invest budget windfalls back into maritime workforce, Union urges industry leaders
9 November 2021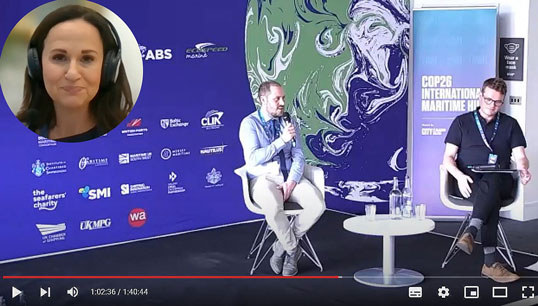 Nautilus International has urged UK businesses set to benefit from the autumn budget to reinvest in the maritime workforce through good quality employment, well paid jobs, and fair access to training.
On 27 October, the Chancellor of the Exchequer Rishi Sunak published his Autumn Budget and Spending Review, which sets out the government's spending plans over the next three years. It was designed to symbolise a move away from dealing with the Covid pandemic, and shift focus onto delivery of the government's manifesto pledges.
Key investments were announced in freeports, shipbuilding, offshore wind, tonnage tax and the Clean Maritime Demonstration Competition.
Nautilus International head of communications Helen Kelly told industry leaders at a Maritime UK webinar that while the Union welcomed funding to stimulate the economy and maritime businesses, any investment of public finances should directly benefit the workforce whose money it ultimately was.
Freeports
Ms Kelly urged a closer look at how freeports could address deprivation in coastal communities, to drive good quality employment and well-paid jobs.
Research by the Centre for Cities published in 2019 found that freeports are unlikely to provide high skill jobs, instead creating low wage work in warehousing, and could drain activity from elsewhere in the country rather than creating genuinely new jobs.
Redistribution of wealth to assist local communities could be compromised by a reduction in tax receipts to the Treasury from businesses operating in these freeport zones.
'Nautilus calls for all businesses working within these zones to commit to quality employment, reject zero hours contracts, and consider other community programmes such as funding free childcare for low paid workers – which would also support women to return to work after starting a family,' Ms Kelly said.
Offshore wind

A further £160m for floating offshore wind port and factory projects was made public by Prime Minister Boris Johnson following the Chancellor's speech.
It is understood the cash will come out of the £1.4bn Global Britain investment fund announced at the budget.
'The Union is very supportive of these measures in principle, particularly if they are linked to green jobs and a just transition for maritime professionals,' Mr Kelly said. 'But we want to see an end to the visa waiver system which has allowed the importation of cheap labour into this sector, and for taxpayers' money to be invested back into good quality, well paid jobs for maritime professionals.'
Clean Maritime Demonstration Competition
Nautilus welcomed the further commitment to the Clean Maritime Demonstration Competition, which encourages innovation and the move to a cleaner, more sustainable maritime industry. But the existing workforce must be a part of that transition and reskilling in new technologies is important.
There is likely to be a greater need for more system-specific or type-specific training in sustainable onboard technologies, Ms Kelly said.
'We would like to see a clear link to be made between government funding of maritime technology companies and training.
'We would simply ask that companies which receive government cash should be required to develop training courses as a prerequisite.'
UK flag and Tonnage Tax
This is only the second time in 21 years that Tonnage Tax and the UK flag has been mentioned in the budget, which could be an encouraging sign that shipping is firmly on the agenda at the Treasury.
Tonnage Tax has two main goals – flag growth and UK seafarer training and employment growth – both of which have stalled and now are in decline.
Directly following the budget announcement, Nautilus International general secretary Mark Dickinson said: 'We welcome the changes and particularly welcome strengthening UK flag links. We will take active part in the ongoing discussion regarding the training commitment as we are seeking to secure 100% funding for cadet training.'
The Union has also called for a commitment from employers to guarantee a period of employment on completion of a cadetship.
Nautilus will seek further clarification on the inclusion of ship management within the Tonnage Tax and whether that will grow the flag and seafarers' training and employment.
Concerns also need addressing on whether the changes to Tonnage Tax will make it easier for companies registered in such places as the Cayman Islands – which is a tax haven and flag of convenience – to benefit.
The webinar was chaired by Ben Murray, chief executive of Maritime UK.
Panellists included British Ports Association chief executive Richard Ballantyne, UK Chamber of Shipping policy director Gavin Simmonds, Maritime London chief executive Jos Standerwick, Workboat Association chief executive Kerrie Forster, and Paolo Favino, Department for Transport head of clean maritime growth, maritime environment, technology and international.
Watch the webinar here.
---
Tags