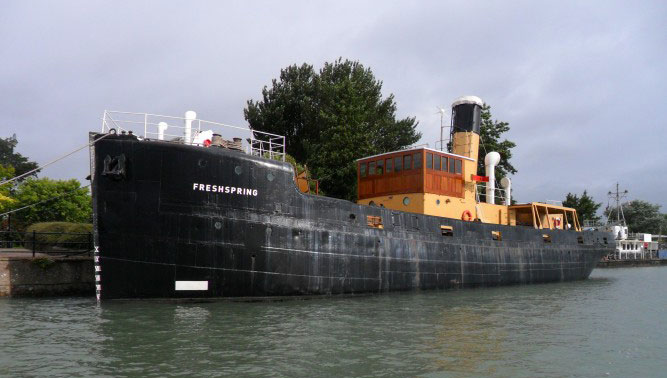 A charity in north Devon has turned to crowdfunding to raise money for the latest stage in its restoration of a 73-year-old former Royal Fleet Auxiliary (RFA) steamship.

The Steamship Freshspring Trust needs £7,525 for a new awning on the deck of the vessel, to provide a covered space for special events, as well as for disabled visitors and school parties, locals and tourists who enjoy the currently static exhibit every year.

The Trust aims to restore the SS Freshspring, which has been recognised as being of outstanding significance by National Historic Ships, to full working order by 2025.

It is hoped the vessel will become a popular tourist attraction, as well as an educational resource, encouraging young people to consider a career in the maritime and engineering industries.

Now at a permanent mooring in Bideford, the SS Freshspring is the last surviving example of the 14 Fresh-class, shore-to-ship water carriers built to supply the Royal Navy. Launched in August 1946, it completed 15 years' service in Malta, then worked around River Clyde and the west coast of Scotland for the Port Auxiliary Service before being put out of service in 1977.

The Trust was formed in 2013 and, since taking delivery of the SS Freshspring in 2016, it has been funded by grants from the National Heritage Memorial Fund and the National Lottery, the local council, individual donations and membership subscriptions.

A growing team of volunteers has been working on enhancing and maintaining the vessel, while planning and working towards the ship's future. The vessel's steel hull has been repaired and made watertight, a new wheelhouse was fitted in 2018, and the ship has been reunited with its original fog siren and oil lamps.

The Trust's patrons include Captain Kevin Slade FNI, a former Chairman of the Merchant Navy Training Board, Rear Admiral Nigel Guild CB CEng FREng and the Right Honourable Earl Attlee.
To donate towards the SS Freshspring's new awning visit the Crowdfunder website

For more information on the SS Freshspring restoration project visit its website
---
Tags