Members at work
Merchant seafarer skills on display in RFA fleet refuelling exercise
19 November 2019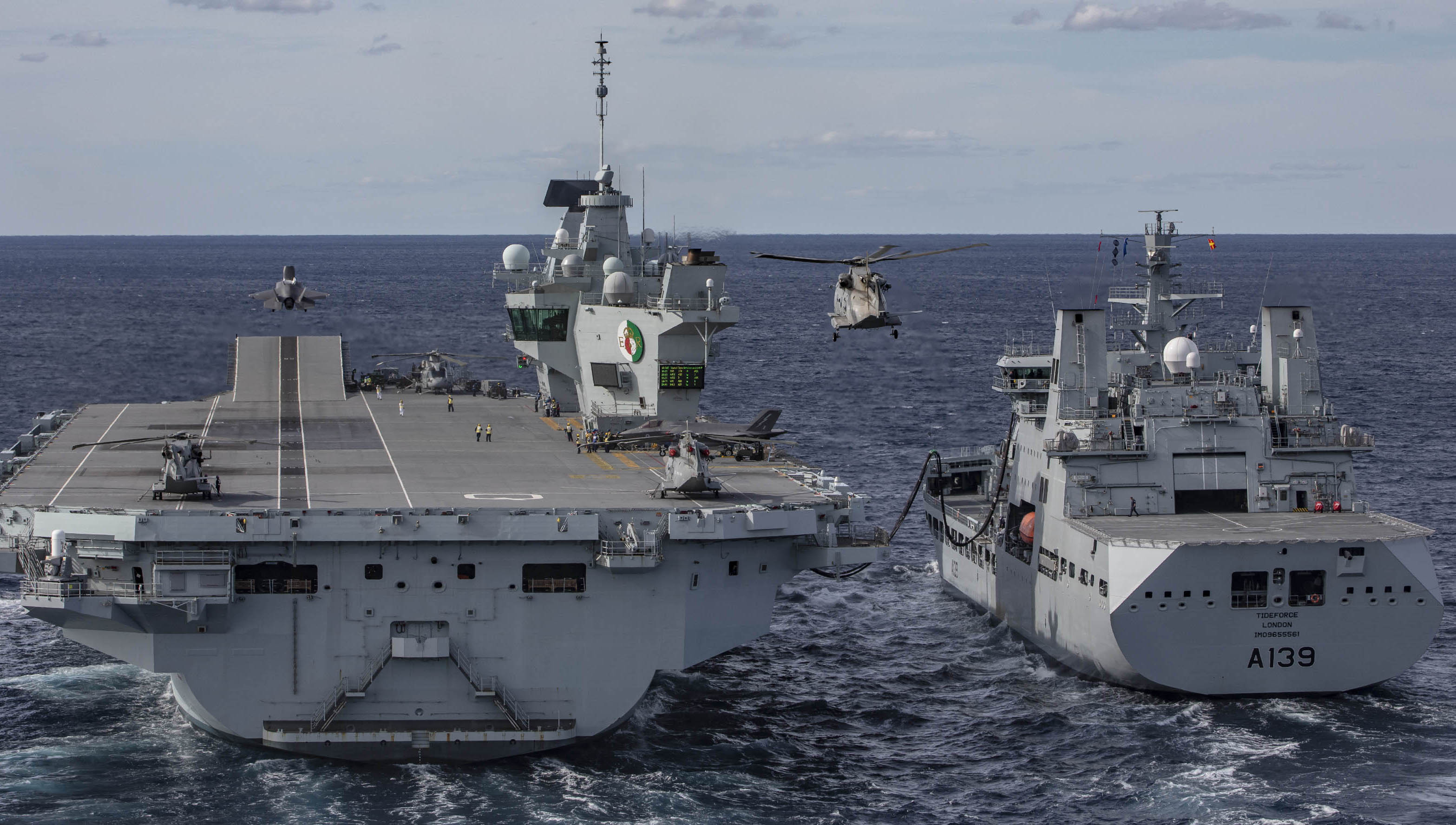 Specialist UK merchant seafarer skills were on display when one of the Royal Fleet Auxiliary (RFA) TIDE class tankers took part in a recent international Carrier Strike Group logistics exercise with the Royal Navy.
The RFA Tideforce – the latest of four fleet replenishment tankers for the RFA - took part in a joint UK-US refuelling exercise with the lead ship of UK aircraft carriers - the HMS Queen Elizabeth - in mid November 2019. It was officially welcomed to the fleet in July 2019 in Portland Port, Dorset.
The two UK Naval Service vessels between them totalled well over 100,000 tonnes of new UK military shipping operating thousands of miles from home. The 'double replenishment' exercise was supported by other escort ships, as the HMS Queen Elizabeth welcomed two new ships to its Carrier Strike Group - the USS Philippine Sea and USS Truxtun, the Ticonderoga-class missile cruiser and Arleigh Burke-class destroyer. They joined UK F-35 jet trials in the Atlantic off the coast of the USA.
Social media commentators on the event say the sight of the new TIDE class tanker serves as a reminder of both the critical importance of the Royal Fleet Auxiliary, and the recent significant investment in new tanker vessels.
The First Sea Lord, Admiral Tony Radakin, who took over the role in June 2019, said in a tweet that the exercise was 'the latest milestone in our carrier development. @HMSQNLZ, @RFATideforce and @HMSNORT show that we can conduct replenishment at sea and launch jets at the same time - with a helicopter airborne to take the photo to prove it. Magnificent sight.'
Blogger 'Sir Humphrey @pinstripedline', author of the Thin Pinstriped Line Blog commented: 'The image of @HMSQNLZ and @RFATideforce refuelling together represents the culmination of 20 years of effort to let them do something that only a handful of navies can do. A great story of UK success.'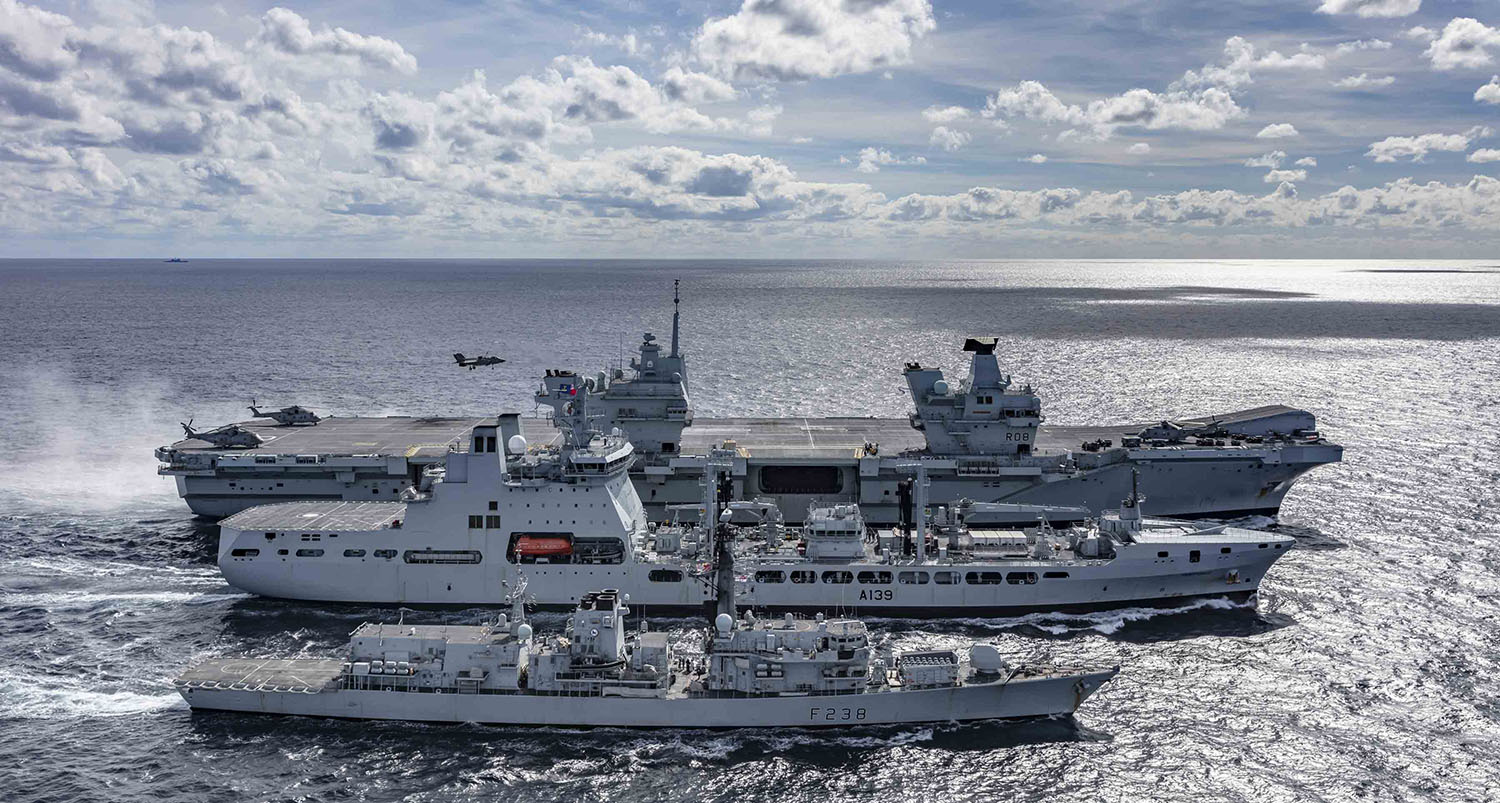 The TIDES partnership will be central to delivering fuel to the Carrier Strike Group, said Sir Humphrey in his blog.
'Logistics is rarely high profile or appreciated, but it is tankers like TIDEFORCE that mark the difference between being a local navy and a global navy.
'For the Royal Navy, it is the provision of modern civilian manned ships like the TIDEs that enable it to deploy globally to conduct operations – be it as part of a Carrier Strike Group, or in the West Indies leading disaster relief efforts, or in the Gulf where the BAY class LSD(A) is vital to supporting allied Mine Warfare operations. Without the RFA, the Royal Navy of today would struggle to be relevant or operate.'
The UK's Carrier Strike group includes the 65,000 tone HMS Queen Elizabeth, which is flanked by the air defence destroyer HMS Dragon, and the submarine hunting frigate HMS Northumberland, and they are supported by one fleet tanker, the RFA Tideforce which provides fuel for the ships and aircraft, and other supplies.
---
Tags