Colleges
Fleetwood Nautical College hosts first digital open day to inspire future Merchant Navy cadets
18 November 2020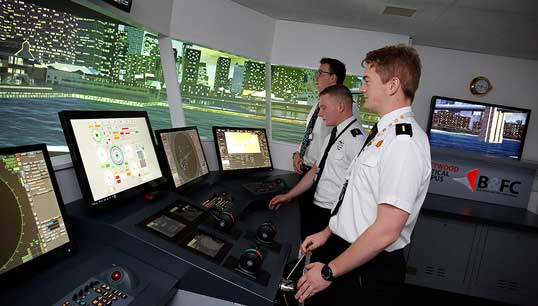 Fleetwood Nautical College (FNC) has responded to pandemic restrictions by hosting its first virtual open event, welcoming the next generation of seafarers through its digital doors.
The experience was designed to demonstrate the breadth of the college's offer and provide prospective cadets with advice on how to get sponsored by shipping companies.
New Merchant Navy Medal recipient and head of campus Neil Atkinson introduced the event and conducted a virtual tour of facilities on the campus – based at Blackpool and The Fylde College – including the college's modern simulation suites.
A video, To Sea Or Not To Sea, also gave viewers a flavour of what it's like to work in the Merchant Navy.
The rest of the experience focused on reasons to choose Fleetwood for training, what kind of person makes a great seafarer, the lowdown on the college's shipping organisation partners, and a live chat to answer questions from potential cadets.
Blackpool and The Fylde College's digital content strategist Dave Thackeray said: 'A lot of work went on behind the scenes so that our contact centre could pass visitors to our experts at FNC, who after a short discovery call initiated callbacks for prospective cadets with our shipping organisation partners to discuss the sponsorship process.'
The event attracted about 350 visitors who spent an average of 1.5 minutes on the page, and generated lots of enquiries and requests to talk with shipping companies.
'It's always thrilling trying these things for the first time. We're using all lessons learned [on the day]to continuously improve the experience, which is now available on demand,' Mr Thackeray said.
---
Tags