International
European waterways: security threat warnings issued for navigation on the Danube
17 November 2023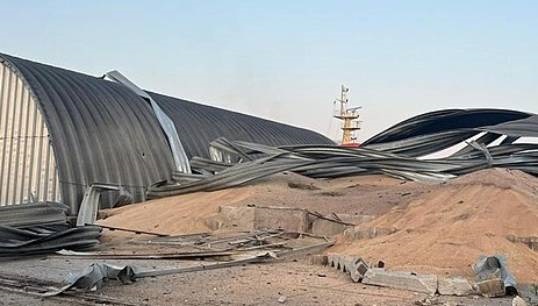 The president of the Danube Commission (DC), Liubov Nepop, has condemned a Russian attack on the Danube infrastructure in Odesa port as a threat to security of navigation on the Danube.
The war against Ukraine has had a serious impact on Danube shipping, first because of the importance of the area as an alternative transport option for grain exports and now because of the increasingly dangerous situation in the Ukrainian Danube ports and the border region with Romania. The bombing of the harbours by Russia has taken place repeatedly, putting the Danube shipping industry and crew members in Eastern Europe at risk.
'According to the official information from Ukraine, on the night of 24 July, Russia attacked the port infrastructure in one of the Danube ports of Odesa region with 'Shahed-136' type UAVs, causing a fire, destroying a hangar with grain and tanks for storing other types of cargo.
'Russia's attack on the Danube ports poses a security threat to the freedom of navigation on the Danube, and in the current circumstances can be assessed as a consistent effort to disrupt global food security. These actions are unacceptable.'
Almost 75 years ago, the Belgrade Convention on the Regime of Navigation on the Danube was signed to provide for free navigation on the river.
On 17 March 2022, during the 12th extraordinary session the representatives of the member states adopted a decision agreeing that the military aggression by the Russian Federation against Ukraine, violated the basic principles of the Belgrade Convention. This decision meant the full powers of all representatives of the Russian Federation were declined; and Russia was excluded from participation in all meetings at the Danube Commission and its working bodies until the restoration of peace, sovereignty and territorial integrity of Ukraine within its internationally recognised borders.
'The attack on the Ukrainian Danube port infrastructure undermines the implementation of the Commission's Danube Solidarity Lane Initiative for EU-Ukraine Trade, which aimed to ensure the continuity of trade and, in particular, the export of agricultural products from Ukraine,' said Ms Nepop, who is also the political director of the Ministry of Foreign Affairs of Ukraine, and a former Ukrainian ambassador to Hungary.
The Danube Commission has already previously emphasised the threats to the security and use of Ukrainian Danube ports posed by the military aggression of the Russian Federation, and economic damage it says continues to be caused to transport and trans-shipment activities along the entire Danube by the military dangers in the Danube delta and Black Sea.
---
Tags