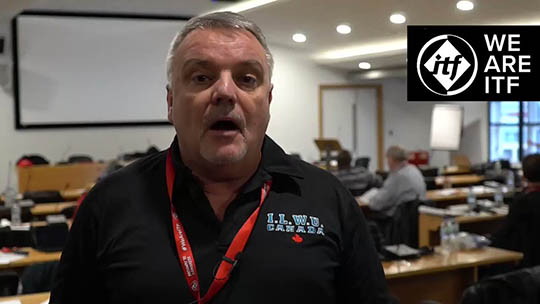 International Transport Workers' Federation (ITF) national co-ordinator Peter Lahay has become a founding co-chair of a new National Seafarers Welfare Board (NSWB) in Canada.
Hosted by Transport Canada, the NSWB will co-ordinate seafarer welfare in Canada.
It will advise government on policy and regulatory issues such as shore leave and crew changes, and It will promote workers' access to recreational, cultural and medical services, as well as shore-based welfare facilities.
'While Canada has a lot to be proud of in stepping up as a global pandemic crew change hub, we still have a long way to go. As a nation we must accept our responsibility as a leading adopter of the Maritime Labour Convention (MLC) to enforce seafarers repatriation and duration of employment standards of the MLC. Let us do the hard work and let us begin getting crew home if certain owners refuse,' Mr Lahay said in a LinkedIn post.
The board is made up of labour unions, marine missions, ship owners, terminals, ports, and agents representing foreign vessel owners in Canada. Transport Canada will act as a Secretariat providing co-ordination and support for the board's meetings and activities.
Debbie Murray from the Association of Canadian Port Authorities is chair of the board, she is supported by co-chairs Peter Lahay and Dr Jason Zuidema of the North American Maritime Ministry Association.
---
Tags