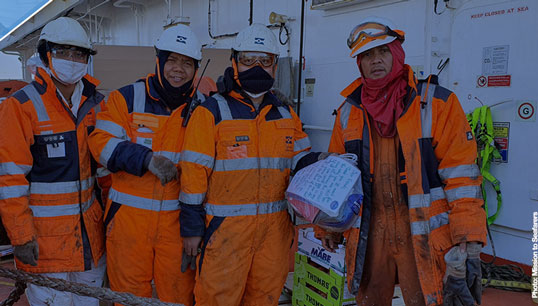 A unique 'seafarer symbol' is being developed to enable crew to identify and access dedicated resources and processes on ship, in port and in transit to/from ships.
The symbol is intended to help the large numbers of seafarers who have struggled to access services during the covid-19 pandemic and improve safety in the longer term.
The International Maritime Organization's maritime safety committee is working with the International Labour Organization (ILO) and the International Civil Aviation Organization (ICAO) to develop a universal non-text logo or symbol for seafarers.
Such a logo is also expected to have a longer-term benefit by guiding seafarers to services. This should ultimately support better safety outcomes, according to the IMO.
The IMO has also further reminded global governments to heed their responsibilities on industry-approved crew change protocols previously issued via a circular letter in October 2020.
The move to issue the crew change protocols via an official IMO circular (MSC.1/Circ.1636) was one of a number of actions taken by IMO's maritime safety committee to support efforts by United Nations agencies, the maritime industry and governments to address the crew change crisis.
Currently, 400,000 seafarers are still stranded onboard ships, with many seeing their contracts extended beyond the maximum 12 month duration of service accepted under international treaties. A similar number of seafarers are waiting to join ships in a situation the IMO describes as 'a very serious humanitarian issue for seafarers which threatens the safety of navigation and world trade.'
The protocols reiterate the need for Governments to designate seafarers as key workers, in recognition of their role of providing an essential service.
They also include practical steps for joining and leaving ships, including the need for compliance and strict adherence with COVID-19 testing and quarantine requirements, and measures to prevent infection on board ships. The document will be updated in line with developments concerning the pandemic.
Up-to-date information on national focal points and on ports which facilitate crew changes will be also soon be made available in the IMO's Global Integrated Shipping Information System (GISIS).
---
Tags