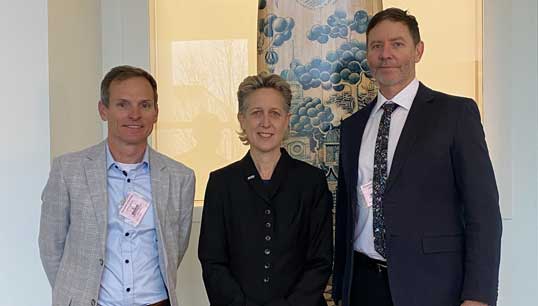 A campaign by Australian maritime unions against efforts by Svitzer to terminate long standing enterprise agreements covering tug crews in the country has gained additional momentum, following a key intervention by the Australian minister for workplace relations Tony Burke.
The unions campaigning include Nautilus Federation affiliates the Australian Institute of Marine and Power Engineers (AIMPE) and the Australian Maritime Officers' Union (AMOU).
On 8 August Mr Burke told a major employer group meeting that he regarded Svitzer's termination tactic as 'more than [taking advantage of] a loophole it's a rort' [scam] and that he was 'disgusted' by the company's approach.
Mr Burke singled out Svitzer and their application to terminate the collective agreement covering Svitzer tug crews in Australia, while outlining the government's priorities in the area of industrial relations.
AIMPE officials and delegates have been lobbying Australian parliamentarians in a campaign organised by the country's national trade union council, ACTU, to raise the need for action by the Federal Government.
AIMPE federal councillors Evan James and Peter de Szoeke (both Svitzer tug engineers) were involved in the lobbying campaign, emphasising the unfair approach being taken by Svitzer. The campaign already appears to have had some effect.
Speaking ahead of a Jobs and Skills Summit to be held in Canberra in September 2022, Mr Burke said: 'An area that I'm increasingly concerned about …is the ability of business to make unilateral cuts to workers' pay and conditions by the termination of agreements.
'The solution to a decade of wage stagnation cannot include a loophole which instead of stagnation causes wages to go backwards.'
'At a time we're wanting to end wage stagnation, where we're wanting to have a serious conversation about how we get wages moving; on my desk I'm getting briefings about a section of the workforce potentially facing pay cuts of 40 per cent.'
The tug workforce in question were the same workers 'putting their lives on the line to save a bulk carrier and its crew that was stranded off the coast of Sydney after a cable had snapped', said Mr Burke. 'They were treacherous images. The New South Wales Premier Dominic Perrottet described the work of these crews as heroic and incredibly impressive. And rightly so..but even where workers don't make it into the news, the principle remains the same.'
Getting out of 'freely bargained obligations', is 'something we would not accept in the world of commercial or consumer contracts. It's more than a loophole; it's a rort. And I'm disgusted that it's even being tried,' said Mr Burke.
Australia's tribunal service – The Fair Work Commission – has deferred the Svitzer agreement termination case until December 2022. Further talks have now been scheduled during August between AIMPE, AMOU, another union in Australia – MUA/CFMMEU – and Svitzer to try to reach a settlement.
---
Tags