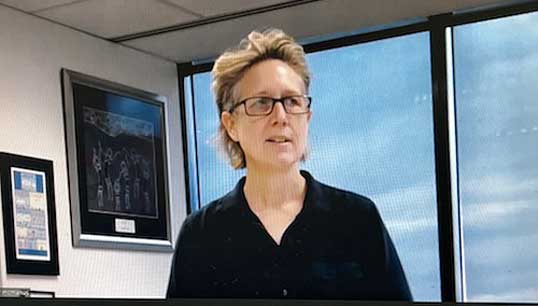 Members of the Australian Institute of Marine and Power Engineers (AIMPE) and the Australian Maritime Officers Union (AMOU), both affiliates of the Nautilus Federation, held a joint 'stopwork meeting' of Svitzer tug employees, alongside members of the Maritime Union of Australia (MUA/CFMMEU) on 5 August.
'Stopwork' meetings are held in company time to consider the progress of an industrial dispute, with this one organised for members to provide feedback about the long running dispute with Svitzer over the company application to terminate the current Enterprise Agreement and attempts to drive members' conditions down to the legal minimum.
The current national Enterprise Agreement commenced in early 2016 and the unions have been negotiating with Svitzer since late 2019 to secure a replacement Agreement. So far this has proved impossible. In early 2020 Svitzer used the cover of the Covid-19 pandemic to stall the process and then served up a list of 30 claims to reduce pay and conditions for their employees.
The company claims would force tug crews to work longer hours and accept shorter breaks all of which will lead to greater fatigue in the 24/7 sector. The company also wants part time and casual employees to work for drastically reduced rates of pay. When the company put a similar proposal out to its employees to vote in 2021 it was rejected by 92% of the workers.
Subsequently, in early 2022 Svitzer applied to terminate the Enterprise Agreement which has generated another battle away from the bargaining table and instead at the Fair Work Commission with lawyers arguing the toss in Australia's tribunal service. The three unions are vigorously opposing the termination application.
During this protracted and frustrating exercise, rates of pay for the tug crews have been frozen. The covid pandemic impacted towage operations for three months in 2020 but ever since tugs have been assisting a strong and growing level of shipping around almost all ports.
Like parent company Maersk, Svitzer Australia is reaping strong revenues and generating solid profits but it seems clear to the unions that there has been a corporate decision to exploit the pandemic to drive down tug workers' pay and conditions.
The national stopwork meeting was conducted by videoconference and was attended by over 200 members in various locations including from tugboats, in union rooms and from members' homes. The meeting was addressed by ACTU Secretary Sally McManus who reported on the recent Workers Delegation to Parliament which took the message to MPs that the Fair Work Act needs to change because it is not fair on workers as it is being used now.
Officials of the three unions reported updates to the members at the meeting, and several Svitzer employees moved and seconded three resolutions calling for Svitzer to back off, for the Federal Government to act and for the Svitzer global CEO to get involved and resolve the negotiations which have now been running for three years.
Key resolutions
Resolution 1:
This combined meeting of Svitzer tugboat employees calls on Svitzer Australia to withdraw its application to terminate the Svitzer Australia Pty Limited National Towage Enterprise Agreement 2016. Members of AIMPE, AMOU and MUA support the call of the three unions for Svitzer to use its time, resources and what's left of its good name to resume enterprise bargaining with its workforce under the Fair Work Act.
Resolution 2:
This combined meeting of Svitzer tugboat employees calls on the Federal Government to take immediate steps to amend the Fair Work Act to make enterprise bargaining fairer for workers – as proposed by the ACTU. Most importantly, members of AIMPE, AMOU and MUA call for amendments to prohibit employers from seeking to terminate Enterprise Agreements in the sole pursuit of lessening workers' pay and conditions.
Resolution 3:
The combined meeting of Svitzer tugboat employees calls on Svitzer Global CEO Kasper Nils to join, in person, with the Svitzer Australia management team and take immediate steps to resume EBA negotiations to achieve a fair and mutually agreeable outcome, giving tugboat workers certainty in their employment with dignified wages and conditions.
---
Tags