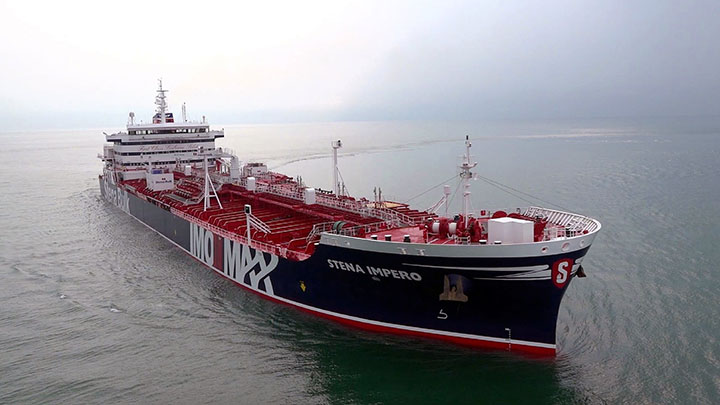 Nautilus International has joined the calls for British ships to avoid the Strait of Hormuz, following the seizure of the UK-registered Stena Impero on Friday 19 July 2019.
Stena Impero was seized by Iran's Revolutionary Guard in the Strait of Hormuz with 23 seafarers onboard of Indian, Russian, Latvian and Filipino nationality.
Nautilus is seeking an urgent meeting of the UK Warlike Operations Area Committee (WOAC) in London to consider the designation of an area of high risk to shipping and seafarers to ensure the continued safety of seafarers on British ships in the region.
In the meantime, Nautilus has welcomed the advice from the Foreign Secretary Jeremy Hunt on 19 July, and in his statement to Parliament on 22 July, calling on UK shipping to avoid the area as an interim measure. The Union has urged the UK Chamber of Shipping to heed the government's advice to protect the safety of its members and all seafarers.
Nautilus has supported the calls for a diplomatic solution to the situation and to deescalate tensions in the region, urging governments to use maximum efforts to have the crew of the Stena Impero released. Nautilus has also called for increased naval support for merchant shipping in the region to protect freedom of navigation and the right to innocent passage.
'Our thoughts are with the seafarers being held against their will and with their families, who will be very worried at this time,' said Nautilus International general secretary Mark Dickinson.
'We offer our support to the international effort to have the crew released safely and we pledge our support to the international efforts to ensure that all seafarers are protected from aggression wherever that risk is evident.'
Nautilus members are urged to notify the Union should they experience problems related to safety of maritime traffic in the Persian Gulf and Strait of Hormuz, to enable it to assist if necessary.
---
Tags