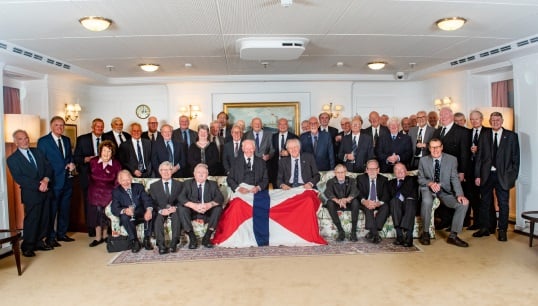 Swire Mariners Association is an organisation for retired company shipmates to keep in touch with one another by holding a two-day gathering each year at various locations throughout the UK.
The highlight is a formal dinner, sometimes aboard a historical vessel such as Warrior, Great Britain or Trincomalee.
Last year, we were very fortunate to enjoy the exclusive use of the Royal Yacht Britannia to celebrate 25 years of the Swire Mariners Association and 150 years of the China Navigation Company (John Swire & Sons Ltd).
We also arrange for a private river day cruise for members, family and friends during the summer months. Our September function in Caernarvon this year will not be as spectacular as last year's aboard Britannia, but meeting up with old friends again is the primary role of our association.
If you were an employee of the China Navigation Company or Swire Pacific Offshore during your career, we would be pleased to welcome you into the Swire Mariners Association. Please contact graemedrewery.gd@gmail.com for more information.
Graeme Drewery