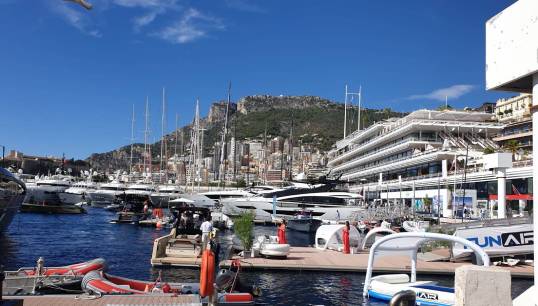 Nautilus is advising members in the yacht sector to be aware of French anchorage regulations in the Mediterranean, following recent incidents where yacht captains have had trouble with maritime police and even been taken to court for violating the rules.
The regulations, which are applicable to yachts over 24m (78ft), have been gradually put in place since 2016 to protect a fragile marine seagrass called Posidonia. The captain of a vessel is held to be ultimately responsible for infringements.
The Professional Yachting Association (PYA) informed members and Nautilus International of one case, the prosecutor sought to ban a captain from French waters for three years and impose a €30,000 fine. As this was a first offence and the captain had no previous criminal record he was fined €1,500, but the prosecutor indicated that he will face both the three year ban and the maximum €150,000 fine for a repeat offence.
French authorities are said to be compiling a list of yachts that have repeatedly contravened anchorage regulations, which could potentially lead to prosecution in future.
Advice for captains
Maps detailing anchoring restrictions are available here.
The Prefecture Maritime has provided several recommendations to captains:
choose sandy areas, easily identifiable by their clear bottom, using sonar
if unsure, anchor at a depth greater than 30m in the French Riviera or 40m in Corsica
reverse at a maximum of 0.5 knots and lift the anchor with the bow of the boat directly above it
or short mooring periods, avoid using excessive chain length
Nautilus is also endorsing the Professional Yachting Association (PYA) guidance for captains to help avoid these legal issues:
ensure that you have the latest charts, publications and local bylaws
select a safe anchoring area for the vessel
always seek confirmation with the local radio station (semaphore) that you are within an authorised area. If not, ask them for coordinates for an authorised area. Record the radio exchange with the radio station (their own calls are recorded)
take photos of your vessel's position, from your displays on the bridge, and note the latitude and longitude of the anchor position in the log book
when at sea and at anchor, maintain a listening watch on Channel 16 at all times. The Prefecture Maritime informed the PYA that several vessels previously anchored in restricted areas have missed one or two calls from the Semaphore
mooring buoys are available in Cannes, Beaulieu Sur Mer and Golfe Juan, and these can be booked via the Donia App
Note that anchoring in a restricted area is permissible if you have to seek shelter, but you will have to demonstrate afterwards that the condition of the vessel and/or weather was such that you could not avoid anchoring in the restricted area.
---
Tags