Community
The grant maker: 100 days in the life of new CEO at The Seafarers' Charity Deborah Layde
8 November 2022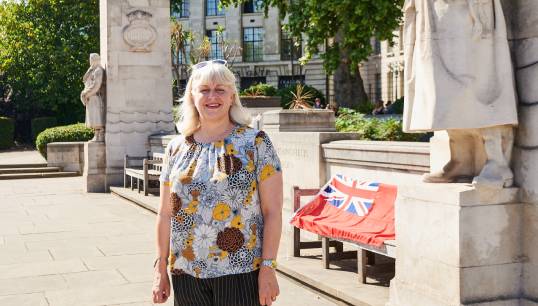 New CEO for maritime grants funder The Seafarers' Charity Deborah Layde was no stranger to the containerload of vital seafarer funding needs which sailed onto her horizon in her first 100 days of office. Interview by Deborah McPherson
Stepping into the CEO role has meant getting to grips with the continuing effects of the Covid-19 pandemic on seafarers' health and wellbeing, as well as gearing up to for the next global crisis – the cost of living crisis – and planning a new campaign to ensure women's safety at sea, which draws on recent research into women working on cargo ships.
Her previous 10 years' experience as impact director at the charity, which gives grants to other maritime charities to fund their vital work, meant she knew how the maritime sector 'ticked' and the role of CEO was a natural next step. The sea also seems to be in her DNA. Her father was in the Royal Navy; her mother came from a Cornish fishing village, and many of her extended family were involved in the fishing business or with fishing.
'It was all to do with the sea for me growing up in Cornwall, so it's always been in my blood.'
Unique challenges
She says she applied for the CEO role, however, because she knew the grant-making body was making a difference to seafarers' lives through its support of maritime charities at the coalface of seafarer support.
'I feel that although working at sea can provide a well-paid, rewarding and adventurous career, it also has quite unique challenges and is a niche workforce,' says Deborah. 'It can be a noisy, vibrating, moving and dangerous environment. And I think because of that, it causes unique issues that you don't have in shore-based roles, such as musculoskeletal and other physical health problems. Seafarers have long absences from family and friends as well. Of course, that happens in other industries too, but what doesn't happen ashore so often is the lack of internet connectivity, and perhaps such long periods of absence, or the danger of being criminalized on the job and being abandoned with no pay, food or water.'
When Deborah says she likes to take the broader view of issues facing charities she means it. Her career has spanned a raft of leadership roles providing vital grounding in the role of a grant maker. In her previous role of impact director she was on a directors' team supporting the chief executive on governance for finance issues.
She has also had a career outside of the maritime sector that was based in corporate and charity leadership. She once worked for the Industrial Society, a charity founded by a clergyman in 1918 to campaign for better workplace toilets before broadening to other health and safety issues. At one point Deborah also worked for the Media Trust which partners with the media and creative industry to give marginalised groups and young people a stronger voice. In her corporate life she led a team of 500 staff for a family-owned childcare organisation before being invited to join its board.
The first 100 days
At the start of her new role as CEO of The Seafarers' Charity Deborah was thrust into Merchant Navy Day preparations, which she appreciates as an opportunity to roll back public sea blindness on the vital role seafarers play in the global supply chain.
Recently Deborah also met with other big UK grant funders, including Trinity House and the Merchant Navy Welfare Board, to compare notes and ideas for supporting seafarers and their families facing the cost of living crisis.
A third component of grant funding work is finding ways to help the coalface charities with their core 'critical' costs, ranging from increased staff expenses to the basics of heating buildings, and now it is considering salary cost support for charity staff facing the same cost of living crisis as the seafarers they help.
'Grant funding doesn't attract the same headlines as project management. But it's the stuff that, actually, you can't do the work without if you don't have a chief executive or project director or finance administrator, or whatever it is. How we continue to support these organisations with those core costs is something that our trustees are currently considering.'
As new CEO Deborah is also taking a fresh look at how the Charity is structured, operates, and collaborates with other Merchant Navy welfare charities. She agrees the recent MCG conference on charity collaboration provided much food for thought, particularly on how to address gaps in funding. A key takeaway for further work is how to further use its convening and lobbying power and provide support for project management.
'We're just looking at that structure, again, to make sure that the decision-making and the appropriate people are on the right committees at the right time.'
Going forward, The Seafarers International Relief Fund (SIRF) continues to provide an opportunity for collaborative fundraising and funding of welfare support for seafarers during international emergencies. It initially started two years ago in India in response to the widespread impact of the Covid-19 pandemic, and subsequently progressed to support the Covid-related needs of seafarers and their families in the Philippines as well as responding when typhoon Rai hit the Philippines. Since March 2022 SIRF has been used to raise funds and grant awards for welfare support for seafarers affected by the war in Ukraine – many of whom have required basic financial support and alternative accommodation.
It is not a quiet life outside of work, as Deborah volunteers her time for other maritime organisations including supporting diversity initiatives. She has become the new chair of the Maritime UK Women in Maritime Network and is head of the Maritime UK Careers Task force, a role she inherited from her predecessor.
Her relaxation? Unsurprisingly it is a mix of frenetic exercise – she belongs to a friendly morning racing rider cycle group – and reading – she recently also enjoyed hosting a session of Maritime UK's Ethnicity in Maritime Book club.
---
Tags