Netherlands
Nautilus presents 'most socially minded student' award at Harlingen Maritime Academy
8 November 2022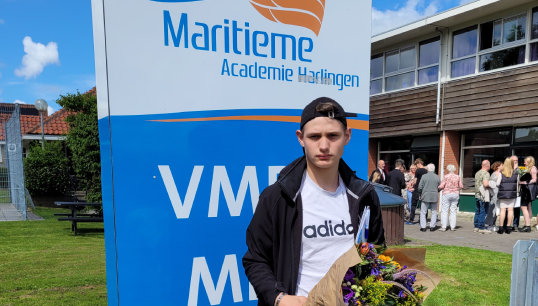 Every year Nautilus International awards a prize for the 'most socially minded student' during the graduation ceremony of the Maritime Academy in Harlingen. This year's lucky winner was Willem van Zanten. After he was called to the stage, he shouted 'I really didn't expect this at all!'. Later Willem added: 'I wasn't always the best. I must say, I wasn't the nicest either, but I was always respectful. I think it's because of that.'
No wonder he didn't expect it. As the school indicated, Willem was not an excellent student in the first year, nor was he as socially minded as he later turned out to be. However, in later years this changed. It was precisely this change in attitude that earned him the 'most socially minded student' nomination.
Willem became a very enthusiastic student, with a goal in mind. He helped to break the ice for his fellow students, by being the first to do a presentation. This made it a lot easier for others to follow.
But Willem showed his social skills particularly well when Ukrainian refugees were housed on campus. The school told Willem about this: 'You showed interest, talked to them and made the Ukrainian boys and girls feel welcome among their peers. For you it was natural, actions that fit your character.'
And the future? In August Willem starts MBO 3 ground operations of the VEVA, he wants to become a non-commissioned officer. 'This training consists of an internship and school, the internships are military internships. After completing it you have greater job prospects in defense as an officer or non-commissioned officer'.
Ultimately, he wants to continue in the Marine Corps as a naval gunner and then move on to MARSOF. 'That's a special unit where you get challenged a lot and there's greater discipline, you get special missions, if you do something it has to be right.
'You don't just join it, you have to do general military training and then join the Marine Corps. From there on, there is a tough selection procedure.'
Willem believes that he can contribute well to the security of the Netherlands. Because Willem is always a go-getter, he is driven to get there. 'If it doesn't work, I'll try again, and again, there's always a way.' Willem is not a quitter, his future lies with defense, the MARSOF is his big dream. He will do anything to make his dream come true.
---
Tags