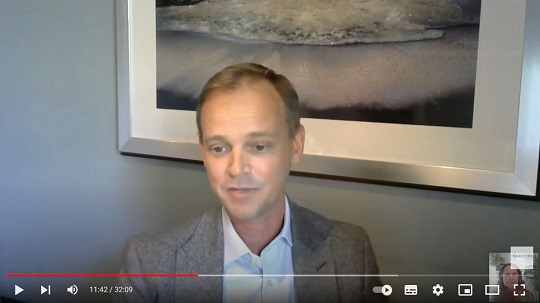 For Tim Howse, vice president of Industry Liaison at P&I Club Gard, going to sea wasn't planned, but coming ashore was. In this latest webinar for the Sea to City series, we hear how a 15-year-old cadet rose to the top of the global P&I industry
At just 15-years of age, Tim Howse was encouraged to go to sea by his father who was in the shipbuilding trade. As a diligent youngster he didn't question his father's advice. But Tim always knew he was going to pursue a different path to the one imagined by his dad.
Before then, though, he passed a dual deck/engineer cadetship with Lloyd's and Chiltern Maritime and got his sea legs with BP, P&O, and Furniss Withy gaining experience on tankers, coasters, bulk, and containerships.
While still a junior officer, and with one eye ashore, Tim undertook a week's work experience with a City law firm while on shore leave.
Tim spent his early career creating opportunities. He wanted to learn more about precision navigation so trained as a navigator first officer, moved into cruise ships and got his masters ticket.
It was then that his first real opportunity to move ashore presented itself. While on a cruise holiday with his wife, a maritime lawyer from Holman Fenwick Willian (HFW) requested a bridge tour. Before the end of the tour, Tim was invited to interview for a job. The rest, as the cliché goes, is history.
Fast forward 15 years and with stints in Singapore, Hong Kong and Greece under his belt, including as in-house legal representative for a Greek shipowner, Tim had the broad experience necessary for a move into maritime insurance with Gard, one of the largest P&I Clubs in the world.
P&I Clubs operate on behalf of shipowners and collect mutual funds to insure for collisions, loss of life, pollution, and other liabilities that arise in connection with operating a ship. To operate, clubs need underwriters to price products, claims handlers to respond to incidents, and technical people to explain what has happened and what it means.
His role now as vice president of Industry Liaison at Gard involves lobbying government and industry on behalf of shipowners and advocating on their behalf.
Part of that role is advocating for better conditions onboard ships. 'Shipowners need seafarers,' he says. 'If you have a happy crew, a well-educated crew, and a properly rested crew, with the right frame of mind, then they will look after the ship and you're less likely to have an accident - and that serves the collective needs of the shipowners. Because if owners are incurring accidents then the P&I funds will be depleted quickly, and they will have to pay more. It is in the P&I Clubs' interests on behalf of the collective membership to minimise losses.'
Tim believes Gard has a moral obligation to assist seafarers whenever it can. It recently launched a free medical app developed with a hospital in Norway for seafarers.
Seafaring skills are in high demand at P&I Clubs. Gard currently covers offshore wind, hull and machinery, and ship builders' risk among others, so needs expertise in those areas.
With one eye still on the future, the types of skills Tim expects to be needed are in data, technology and autonomous systems – 'because we don't have those skills now'.
Sea to City is a mentoring scheme that is open to all full members of Nautilus International that pairs seafarers with professionals working in the maritime services sector.
---
Tags