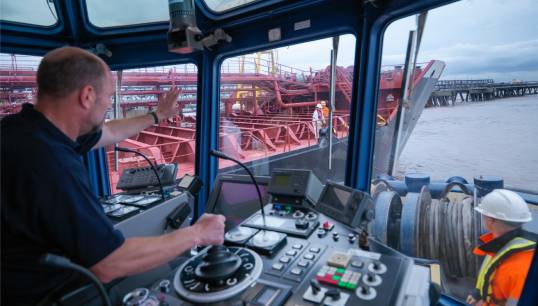 Nautilus members have been raising concerns about one of the UK's higher-level STCW officer exams. Sarah Robinson reports
The Union has been contacted by several members in recent weeks warning that the recent phenomenon of very low pass rates for an STCW exam could see an exodus from the British exam system to countries with 'fairer' marking.
The problem is with the Chief Mate Stability paper. Historically, 60%-70% of candidates passed this exam in the UK, but the last two years have seen the pass rate plummet to 14% at its lowest point, with only 19% passing on the most recent sitting.
Potential causes
A change of syllabus and exam board is thought to be responsible, rather than weaker candidates.
For one thing, the sudden precipitous drop in pass rates is suspicious in itself. And, as one Nautilus member pointed out, many students who have failed Stability have passed the Navigation paper and Orals without difficulty.
Poorly-worded exam questions could be a factor, the member continued, as could the upheaval involved in introducing the new syllabus, making it harder to prepare for the exam and practise using past papers.
Not fit for purpose
Stability is acknowledged to be a difficult subject, but candidates feel that an exam that has a pass rate of under 20% for two years in a row is not fit for purpose. Individuals told Nautilus that they did not want to seem like 'disgruntled students' because they had not passed, but the consistently low pass rate around the UK must surely indicate that there could be something wrong with the exam papers, or with the way the subject is being taught.
Nautilus members said that the MCA must find a way to make sure candidates are rigorously examined in Stability on a syllabus that reflects modern shipping practice as well as traditional skills – with the focus on what they need for their work and knowledge gained through experience as well as study.
If a UK exam gets a reputation as being near-impossible to pass when its equivalent in other countries is more manageable, then there is a danger of UK candidates leaving the country's maritime education system for the likes of Ireland and New Zealand.
Anecdotal evidence also indicates that seafarers are becoming discouraged by repeatedly failing the Stability exam and are considering leaving the profession because they cannot progress their careers.
Union action
Members are calling for an investigation by the Maritime & Coastguard Agency (MCA), which issues UK seafarers' professional certificates after candidates take exams set by the SQA exam board, to discover the causes behind the low pass rate.
Nautilus head of professional and technical David commented: 'Our members are right to have raised this issue with us. The Union takes this matter very seriously. I am taking up members' concerns with the MCA so that we can find out exactly why there has been such a turnaround in results for this exam, and find a satisfactory resolution as soon as possible.'
---
Tags