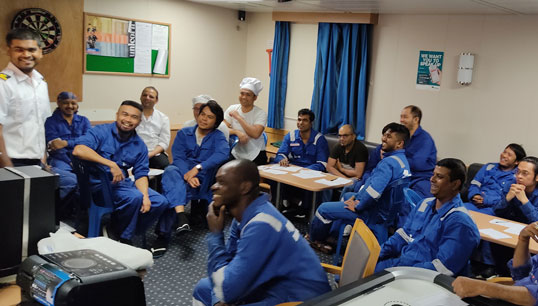 Ship design that does not consider its human crew more, can adversely impact social interaction and, ultimately, seafarer safety and wellbeing, research by the International Seafarers' Welfare and Assistance Network (ISWAN) has found.
ISWAN's Social Interaction Matters (SIM) project research is examining the drivers and barriers to social interaction on board and identifying which activities are most successful at engaging crew.
The research is being conducted in three phases, with the aim of help shipping and ship management companies improve wellbeing on board using programmes with proven success.
The first phase results were reported in January 2021. The second phase is set to conclude in the next couple of months, but ISWAN has now explored in more detail some of the key themes emerging from the first two phases. Phase three is set to conclude by the end of the year and will include the publication of a 'toolkit' containing guidance for shipping companies and the maritime industry.
One of the threads emerging is that ship design plays an important role in facilitating social interaction on board, from providing sufficient communal space for crew gatherings to creating an environment which is comfortable, attractive and encourages relaxation.
SIM project research lead Dr Kate Pike said: 'Ship design is crucial to providing both an operational, functional working environment but also in creating an attractive and comfortable space for seafarers to live and relax in together. When you are living and working in the same space for months at a time, this environment needs very careful attention. Ultimately, all aspects of ship design have an impact on the safety and the mental health of those working on board in these spaces.'
Dr Pike said that although the research didn't specifically examine the role of the Maritime Labour Convention (MLC) and social interaction, 'it was mentioned as a positive influence in terms of its consideration of living spaces on board ships. Prior to this legislation, this was given far less of a priority.'
ISWAN's research highlighted, however, that many vessels are built to achieve economies of scale, so although they are often built larger, accommodation quarters and spaces for crew to relax in and socialise are not necessarily a priority.
One crew member interviewed in phase one commented on the lack of balance between ensuring a vessel is fit for service and ensuring enough space for crew to live and work comfortably: 'They've forgotten about the crew [is] basically what's come out of the design. All the Gucci stuff for the operational side but actually when you look at living, we haven't got the space on there.'
Crew from one of the vessels taking part in phase two of the SIM project reported they were sometimes kept awake by vibrations resulting from changes of pitch and RPM on the vessel during arrival at and departure from anchorage, at the pilot station and at berth. The resulting fatigue caused by disturbed sleep is likely to have an impact on crew wellbeing, safety and, in turn, crew members' motivation to prioritise socialising over rest, highlighting further the importance for ship design to take the human element into account, said the researchers.
Good practice in considering ship design for crew wellbeing does exist, however, and could be adopted if companies are willing to do so, said ISWAN.
---
Tags