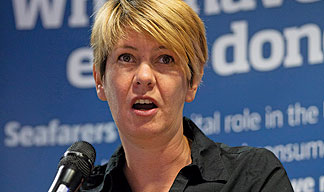 Nautilus has joined maritime employers and welfare charities to express concerns that the poor treatment of seafarers during the pandemic will result in a haemorrhage of personnel – and will put off new recruits.
The views were shared in a public webinar titled Crew Welfare: Sustainability Practices, organised by WISTA UK. Nautilus head of strategy Debbie Cavaldoro was on a panel of high-level industry speakers alongside Lena Dyring of the Norwegian Seafarers Union, Guy Platten of the International Chamber of Shipping, Catherine Spencer of Seafarers UK, and Tim Springett of the UK Chamber of Shipping.
Reflecting on the wellbeing of seafarers after a year of problems with crew relief and repatriation, Ms Cavaldoro said that mariners had been demonised from the start of the pandemic, when they took the blame for Covid-19 outbreaks on cruiseships.
As the months went on, this unfair characterisation had exacerbated the difficulty for unions and employers of persuading governments around the world to designate seafarers as essential key workers with permission to cross borders and travel to and from their vessels for work.
Mr Platten agreed that it had been a constant challenge to increase the visibility of the industry so that seafarers' needs and concerns were understood and acted on. He and Ms Spencer both said they were concerned about the mental health of seafarers stuck on their ships indefinitely because of the crew change crisis.
Ms Dyring noted that the wellbeing of seafarers made unemployed by the pandemic was also a concern – with the cruise sector perhaps the hardest hit. As cruise employs most of the 3% of global seafarers who are female, she added, jobs lost in this sector are likely to translate into a significant loss of women to the maritime industry as a whole.
All of these issues are mounting up to a situation in which seafaring may no longer be seen as an attractive career, agreed the panel, with Mr Platten asking ruefully: 'Why would you want to work at sea?' Ms Cavaldoro said that cadets had been treated especially poorly during the pandemic, and this would make it even harder to encourage new recruits into the industry.
Why would you want to work at sea? Guy Platten, secretary general of the International Chamber of Shipping
On a more positive note, the panellists also pointed out ways in which the pandemic had shown the strengths of the industry. An established system of joint working between unions, employers and welfare charities had placed the industry in good stead, they felt – for example when lobbying together to get seafarers recognised as key workers.
Ms Cavaldoro said that pre-pandemic work on mental health challenges for seafarers had been useful, laying the foundation for the extra support that now needs to be provided.
Mr Platten said that it was worth persevering in gaining the attention of the mainstream media, because an article in a well-known newspaper had led to the establishment of the seafarer vaccination programme in Singapore.
And Mr Springett said that, despite all the problems during the pandemic, shipping had proved its worth by continuing to transport essential goods, and there was plenty of work out there for seafarers.
Looking at the next steps for improving seafarer wellbeing, the panellists agreed that there should be an industry-wide Covid-19 vaccination programme, as this should open doors again for crew relief and repatriation and therefore start to restore the image of seafaring as an attractive career.
Another important way of doing this would be to ensure all vessels around the world have good broadband access for their crews, so that new recruits know that they will be able to stay in touch with their families and friends while at sea.
Proper worldwide enforcement of seafarers' rights under the Maritime Labour Convention should also be a priority, and there should be action, not just fine words, when organisations sign documents such as the recent Neptune Declaration on resolving the crew change crisis.
---
Tags