Environment
Prevention through education – how a grass-roots campaign is working to reduce plastic waste in the sea
2 September 2021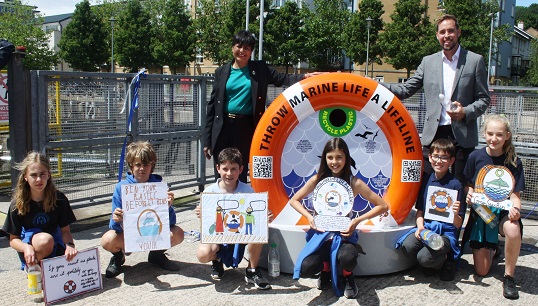 UK environmental charity GreenSeas Trust raises awareness of the harm caused by plastic waste in the sea and educates individuals on responsible plastic use and disposal. The charity's founder, seafarer Fazilette Khan, reports on recent developments
What a difference a year makes! Despite the challenges of Covid and the drying up of funding from many sources, we were able to secure support for our BinForGreenSeas project from some high-profile funders.
The idea behind the BinForGreenSeas is to help reduce plastic pollution in our seas by educating people in a visual way. It's not just about the amount of plastic each bin collects, it's about raising awareness, about getting conversations started on how we can all make small changes to help reduce plastic waste in our seas and improve the environment.
One of our new supporters was the City Bridge Trust, a charitable body associated with the City of London Corporation. The grant from City Bridge enabled GreenSeas Trust to install a BinForGreenSeas at Canary Wharf.
The River Thames has some of the highest recorded levels of microplastics for any river in the world. By having the BinForGreenSeas located at the entrance to the pier of Thames Clippers, this subconscious visual stimulus will help people to realise their own single-use plastics consumption is fuelling the vast problem of marine plastic pollution, when it is disposed of irresponsibly.
City Bridge Trust chairman Giles Shilson said: 'The environmental impact of plastic waste in our rivers and seas is a global problem, but one that we can all take action to address in our daily lives. This is a really innovative and striking way of raising awareness of the issue at a very busy location and encouraging people to bin their rubbish and reduce their plastic waste.'
Complementing the installation of the BinForGreenSeas on Canary Wharf, GreenSeas Trust also ran environmental awareness sessions for local children from St Edmund's Catholic Primary School and Harbinger Primary School in Millwall. The conversations were broad-ranging, from the advantages and disadvantages of plastic to the overwhelming availability of single-use plastic and the growing impact of plastic pollution. The young 'plastic warriors' were quick to suggest solutions to the problem and eager to propose ways of reducing, reusing and recycling plastic.
Their creativity knew no bounds when presented with the challenge of turning some trash into treasure. Using items of rubbish, especially unwanted plastic, works of art were created, unwanted plastic was repurposed for practical tasks and games were even devised.
Pledges were made, new possibilities were explored and a whole new generation of ambassadors were initiated into the practical achievability of greener, cleaner seas.
Meanwhile, this summer a BinForGreenSeas was also installed in Portishead in southwest England. Representatives from Portishead Town Council, local business owners, community groups, and students from Portishead Primary School were thrilled to see the new installation unveiled.
Last but not least, a BinForGreenSeas was installed in Scarborough, northeast England. With a pandemic-driven increase in visitors, it comes as no surprise that last year the borough experienced more severe amounts of litter left behind on the coast. Putting the BinForGreenSeas right on Scarborough's promenade is the best solution for preventing plastic pollution both on the beach and in the sea.
---
Tags