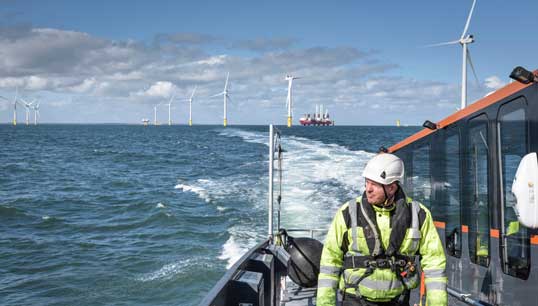 Nautilus has lobbied the government to end a visa programme that undercuts local terms and conditions, blocking UK seafarers from jobs in offshore wind. Rob Coston reports
Nautilus continues to campaign for an end to the Offshore Wind Workers Concession (OWWC), which is due to expire in July – a campaign given fresh impetus after the UK government announced a further expansion of green energy.
The OWWC allows companies to skip the usual post-Brexit immigration restrictions and employ foreign nationals to join vessels engaged in the construction and maintenance of offshore wind farms.
Originally introduced in 2017, the government has repeatedly renewed the 'temporary' concession – in 2021 this was done with no warning, on the day after it expired.
Unfair competition
There is no credible evidence of a shortage of UK maritime professionals to undertake jobs in offshore wind. However, there is certainly evidence that the OWWC has resulted in the use of labour paid well below UK rates.
With Union support, MPs have pushed the government on this issue in Parliament, especially Karl Turner MP (Labour, Kingston upon Hull East), who has long demonstrated his opposition to the OWWC as it allows companies to undercut pay and conditions.
The latest
The P&O Ferries crisis drew public attention to the undercutting of pay and conditions by companies in the maritime sector, and Nautilus seized the opportunity to resume its political campaign on the OWWC issue, asking the Home Office to clarify whether the concession will be extended again or finally allowed to lapse.
After a Home Office spokesman gave a noncommittal response, Nautilus asked MPs for assistance. in May, Labour MP Ian Byrne raised the issue in Parliament: 'In the light of the disgraceful decision by P&O Ferries to sack 786 British seafarers and replace them with exploited foreign labour, will the Home Office commit to ending the offshore wind farm worker concession to ensure that UK seafarers can compete fairly for these jobs?' he said.
Home Office minister Priti Patel said that Mr Byrne made very important points and agreed to speak directly with him about the issue. Nautilus will continue to follow up, with an Early Day Motion in Parliament on the issue planned.
---
Tags