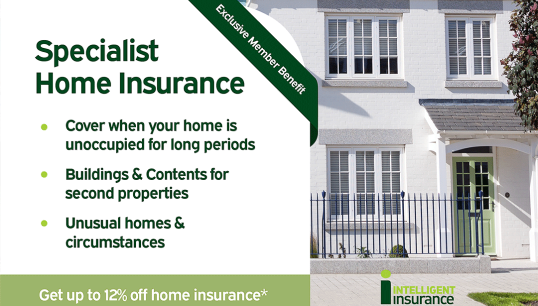 Following feedback from our members, we are partnering with Intelligent Insurance to provide discounted home insurance* specially for those who work away from home for long periods
Nautilus is excited to announce a new benefit for members who are domiciled within the UK.
Working at sea can often mean working away from home for long periods, and for some of our members this length of time by most insurance providers (i.e. 30 to 45 days).
For members who spend long periods away at sea, getting adequate home insurance can therefore be a challenge.
'We previously offered a home insurance solution, but this lapsed several years ago. Recently we asked members which benefits they would be most interested in receiving, and there was a strong response from many people indicating that they would once again like help with this issue,' says Nautilus head of organising Garry Elliot.
'For that reason, Intelligent Insurance have agreed to offer their service at a 12% discount*, and members will be able to get a home insurance quote from the company in most circumstances.'
Intelligent Insurance can provide cover for standard properties and circumstances but specialise in providing home insurance covering a variety of non-standard or unusual circumstances (unoccupied or longer periods of unoccupancy being just one area of specialism).
They also provide cover for a range of properties and situations, such as:
Older houses and listed buildings
Properties with non-standard or unusual construction
Properties with previous subsidence
UK second, holiday and weekend homes
The firm has a 5 Star Defaqto Rated policy for both its buildings and contents cover, meaning it is one of the most comprehensive on the market, and has maintained an Excellent rating from customers on Trustpilot for service delivery.
This deal is available to members through Parliament Hill, who already deliver a range of benefits to members via Nautilus Plus.
---
To find out more about the members discount and get a home insurance quote, click here.
---
This article has been authorised by Intelligent Insurance. The details relating to the insurance offered and policy ratings are accurate at the time of publication.
*This is a Nautilus members discount and is only available to members of Nautilus who click through or call from the member page. A maximum of 12% discount will be applied automatically to the premium and where the full 12% is not available, the maximum amount of available discount will be applied to the premium. Intelligent Insurance may not be able to quote in all circumstances. Cover limits/restrictions and/or conditions may apply to the policy, according to your circumstances. These are clearly detailed prior to purchase and in the policy documentation. Insurance is subject to underwriting.
Terms and conditions apply to all benefits. See website for details. Offers subject to change without notice. Nautilus Plus is managed and run on behalf of Nautilus by Parliament Hill Ltd of Britannia House, 21 Station Street, Brighton BN1 4DE who are authorised and regulated by the Financial Conduct Authority for non-investment insurance mediation under registration number 308448. Details can be checked on the Financial Services register by visiting the FCA's web site at https://fca.org.uk/register.
Intelligent Advisory Services Limited trading as Intelligent Insurance is authorised and regulated by the Financial Conduct Authority (FCA) under firm reference number 624474.
---
Tags