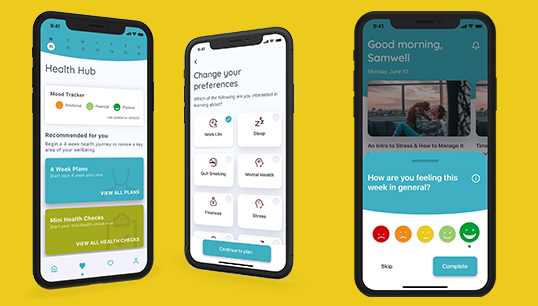 To receive your code
The codes required to access the Health Assured services have been sent to members. Login information for the website and codes for login and downloading the My Healthy Advantage app are also available in the My Nautilus/Health Services section. Contact membership@nautilusint.org if you require any assistance.
Nautilus members have long benefited from the popular Nautilus 24/7 helpline, which provides emergency assistance.
However, members have been unable to access round-the-clock medical or mental health advice – until now.
Nautilus has signed a new agreement with Endsleigh Insurance that gives access to health and wellbeing services from Health Assured as an extra benefit of membership. The portal can be accessed at www.healthassuredeap.co.uk, and login details are being sent to all members.
Health Assured is experienced in working with membership organisations. It currently supports more than 12 million individuals and has a network of 1,600 counsellors.
In addition, all the new services on offer can be used by partners and dependents of members as well – a valuable addition for seafarers who are away from their families, especially with travel disruptions due to Covid.
A new helpline
The service includes a 24/7, 365-days-a-year confidential helpline, staffed by trained medically-qualified counsellors. This can be accessed by UK freephone, email or live chat.
The helpline counsellors are able to assist with all kinds of emergencies and will also refer members in need to other services for more long-term assistance.
Members who call Nautilus 24/7 with health concerns will be forwarded on to the new Health Assured service.
All counsellors are based in the UK and must be fully qualified and experienced to ensure they provide a high-quality service to members.
Long-term support
In addition to the helpline, members can use a special code to sign up to use Health Assured via the website, and you can also access services by downloading the My Healthy Advantage mobile app for iOS and Apple devices.
The app and website portal can be personalised so that you receive learning materials, resources and tools on topics relevant to you in your own newsfeed.
The online portal and app include articles and information, plus a whole range of health services. These include a weekly mood tracker to help with mental wellbeing, plus mini health checks covering topics such as sleep and mental health.
There is also a range of four-week plans to help with everything from living a healthy lifestyle to exercise, losing weight and quitting smoking. These include templates you can fill out on paper or via the app to chart your progress towards achieving your goal.
---
Tags